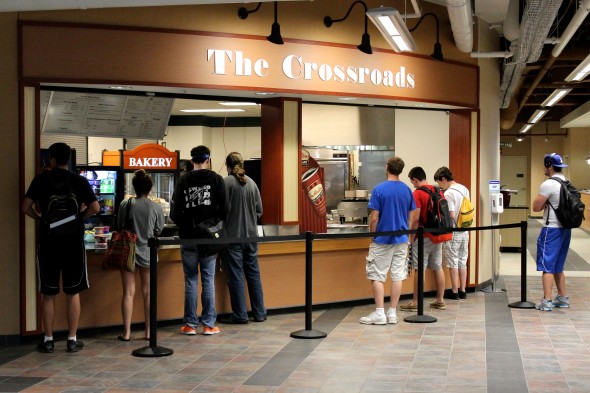 Starting this semester, Auxiliary Services has made the decision to try a new payment option for cash operations places starting with Crossroads in the Marano Campus Center. Located across from the information desk, Crossroads is now accepting debit and credit cards to make a quick bite more convenient for all students.
Before this year Crossroads only accepted cash and student dining dollars but now with the acceptance of MasterCard, Visa, Discover and American Express cards, Auxiliary Services has made it possible for people to pay in any way they deem most convenient.
"I think it is a great idea," said senior Jessica Sarubbi. "Considering for me that I don't have cash all the time so to make it way easier for me, living off-campus, not to run to the ATM, then get food, then wait for it, I think it is a great thing."
According to the National Association of College University Food and Services (NAFUCS) satisfaction survey for Oswego State, students have been asking for another payment option over the past few years for those who don't want to carry cash or run out of or don't have dining dollars.
According to Steve McAfee, the director of cash operations and catering, they have been considering accepting debit and credit cards for four to five years now and the biggest challenge that they faced was the fee structure. In the beginning an average $5 transaction would have cost Cash Operations and Catering about 55 cents in fees from the credit card companies for each transaction. With that fee, they would have had to compensate and spread it out across the board, by increasing their prices.
"It didn't make sense on why we would do it because students would be paying more for the same food," McAfee said. "They weren't getting a value out of it. They would have been getting convenience but it was definitely not how, as a company, we focus the business."
With recent changes in banking laws, debit cards have become more of an affordable option for Cash Operations and Catering. Their accounting department spent two years working through and renegotiating contracts with the credit card companies and they were able to find a much better option that made credit cards more feasible with sufficiently lower fees. This past spring, Cash Operations and Catering agreed on a contract from their accounting department and decided to move forward with it. They eventually proposed offering credit cards to their board and wanted to use Crossroads as a trial run.
"Crossroads is the most popular student location serving a wide variety of food," McAfee said. "Lake Effect is probably the most popular and Fusion is second but they have a limited menu. We wanted to go where you can get breakfast, lunch and dinner with the service we want to provide, operating a wide number of hours…Crossroads kind of fit that piece. The number of students that primarily use it are off-campus students, so it gave us an opportunity to have an impact very quickly and to see what the transaction counts would be, participation rates and how that carries across to the other locations if we wish to expand it."
According to McAfee, Cash Operations and Catering would like to get a full semester of data before determining whether to expand to other locations. Although they still promote dining dollars as the best value for students, they suspect they will continue this new payment option in the future.