Public relations majors came together Monday in Lanigan Hall to hear from professionals in the field.
The theme of this year's event, called "What's Next" and run by the Public Relations Society of America, was themed "Finding your Niche in the PR Puzzle." Speakers addressed how they found their place in the professional world and what kind of skills are needed to work in the field.
PRSSA is the Oswego State chapter of the national organization, where students learn about public relations and practice public relations skills, as well as meet public relations professionals.
Godnick said this year's topic was chosen "since PR is such a diverse profession that is needed in every kind of organization from consumer goods producers to government agencies."
"In the past, discussions have been geared toward interviewing skills and applying for jobs," Godnick said.
The speakers for this event consisted of Leila Karkia, corporate social responsibility and events coordinator at O'Brien & Gere; Michael McDougall, president of McDougall Communications; Crystal Smith, director of integrated media for public relations at Strategic Communication; and Sara Wallace, Director of Marketing at Destiny USA.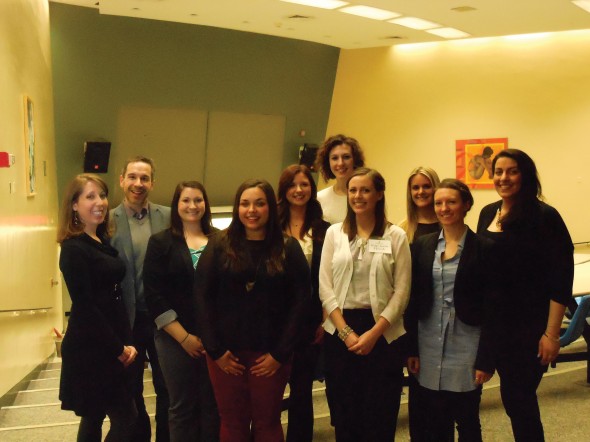 The speakers gave suggestions about both undergraduate and graduate school, and explained that it is not necessary for a prospective employee to have background in public relations or communications to get a position in that field.  Many times, those hired are experienced in a wide range of fields.
McDougall also explained that sometimes employees can wait a few years to go to graduate school to ensure that students get masters in the field that you will be working in. Smith added that companies will sometimes even pay for an employee to get their master's while working for the company, which is a win-win situation because employers may have more sympathy while assigning workloads, plus the student benefits from a free extended education.
The panel discussion was followed by a networking session and refreshments where the audience was able to interact with the speakers.
The majority of students who attended this event were either public relations or communications majors who said they were there were great networking opportunities.  The attendees had very positive reactions to the event, and were glad that they were able to go.
"I learned a lot of interesting things about PR and communications because they do go hand in hand," said Kate Newman, a communications major. "It was really interesting and exciting to explore different parts of communications that I wasn't aware of."
Kaylee May, a PR major and member of PRSSA explained that she came for the "good networking," and was not disappointed.
PRSSA leaders said they are looking to host more events, including future "What's Next" networking sessions.