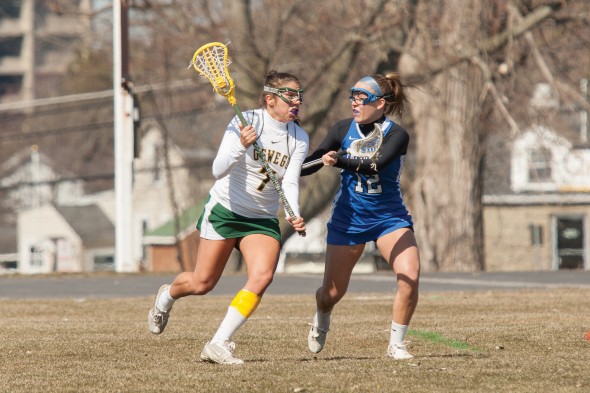 The Oswego State women's lacrosse team is gearing up for another season and there is a general feeling around the team that 2014 is the year to make an impact in the SUNYAC.
"This is one of the most talented teams that I've ever coached," head coach Brandi Lusk said.
The Lakers are looking to build off the successes of their 2013 campaign. Last season, the squad went .500 in both conference (4-4) and non-conference (4-4) play, missing the playoffs by one game.
Lusk witnessed a number of her freshman players make a name for themselves, including midfielder Lindsey Eggers, who was second on the team in points with 25 (16 goals, nine assists) and attacker Esther Gabriel, who contributed 23 points (18 goals, five assists). Erannan Shattuck led the Lakers in scoring as a freshman, netting 30 goals while assisting on 22 others.
Despite her successful season, Shattuck said she expects more of herself.
"My goal this year is to score 70 points," she said.
Shattuck started her 70-point bid strong on Saturday, when she helped the Lakers win their first game of the season against Utica College, 10-6. She scored two goals and dished out four assists. Gabriel, now a captain, scored three goals and tallied an assist.
Lusk talked about the significances of having those two players get off to hot starts.
"They were both freshmen last year that we put a lot of pressure on, and I think now that they got a year under their belt, they know what they can do," Lusk said.
"It's great that they started off strong. They should start off strong. They're two of the best players on our team, if not in our conference and they need to act like it. They're owning up to their roles and responsibilities on the team this year."
The Lakers received a boost against Utica from a new-comer, sophomore attacker Emily Lange, who scored four goals.
"She was here last year," Lusk said. "She wanted to play, but then changed her mind. She decided to play this year and I'm thrilled. She came out of nowhere. I was pleasantly surprised."
The Lakers are hoping their play against Utica will carry over into SUNYAC play, which begins at the end of March.
The Lakers will be fighting for a playoff spot against four nationally-ranked teams in SUNY Oneonta (No. 17), The College at Brockport (No. 16), SUNY Geneseo (No. 10), and conference powerhouse SUNY Cortland (No. 4). The Red Dragons have won the conference 15 consecutive seasons.
Senior captain and All-Conference goaltender Nikki Greco said she believes her team has what it takes to challenge the Red Dragons.
"I think we can keep up with them this year," she said. "We have some new girls on the team who are definitely a big help for us."
"I'm excited," Shattuck added. "I think we can beat them."
The Lakers are focusing on their first conference game against SUNY Fredonia at home on March 29. Fredonia finished second in the conference last season, but have lost their first two games this season.
During last year's matchup, the Lakers were only trailing by a goal toward the end of the first half, but then the Blue Devils stepped up their play, scoring eight straight goals to down the Lakers, 13-5.
"We should've beaten [Fredonia] last year," Eggers said. "We were close with them."
The Lakers have two non-conference games this weekend against RIT and Morrisville on Friday and Saturday, respectively. They then play Clarkson University on Thursday, before heading down to Florida for a couple spring break games against Springfield College and St. Joseph's of Long Island.
By then, the Lakers are hoping to have a feel for the team they will be going into conference play with. Gabriel said she thinks they're going to take the SUNYAC by surprise.
"They see us as a threat, but not as big of a threat as they need to see us as, because we're coming out swinging and we're going to shock a lot of people," Gabriel said.