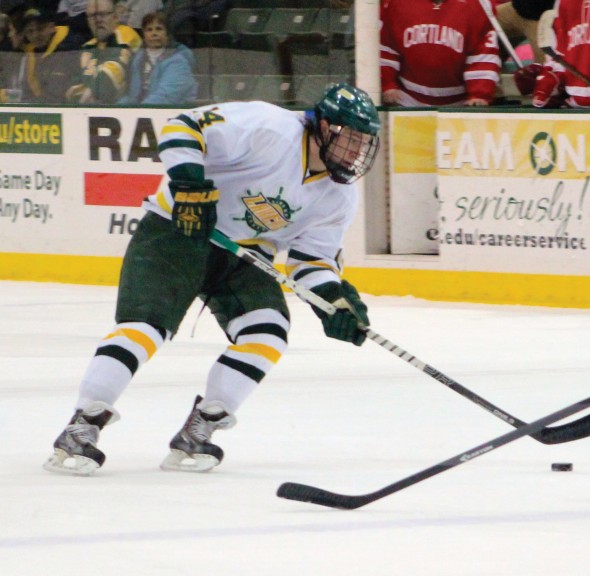 At the start of the season, with 19 freshman and five transfers, No. 10 Oswego State (via uscho.com) was not projected to win the SUNYAC. After losing 14 seniors from a NCAA runner-up squad, there were questions about how the Lakers would fare this season.
Head coach Ed Gosek knew from the start that his team would have a lot to prove with so many new faces. However, his whole staff is impressed with how the season has turned out.
"The expectations of the beginning of the year, to say we were going to make it back to the league finals, I don't know if that's fair," Gosek said. "But, the reality is they've grown as a team."
"They stayed disciplined. They stayed in our systems. They were unselfish. They did everything we asked and put in a great effort… we're very grateful and we're looking forward to Saturday night. But, in reality, win or lose it would not have changed our opinions on how they played and competed."
No. 10 SUNY Geneseo, with 18 players back from last year's SUNYAC semifinalist team, was seen as a serious threat to SUNY Plattsburgh for the conference crown.
Even after seeing so much of Plattsburgh and Oswego State in the finals over the years, Gosek is not surprised to see the Knights rise to the top this season.
"Geneseo's been right there knocking at the door, as have other teams," Gosek said.
"They've been a very good team. It's not a fluke that they're where they're at," Gosek said. "They beat us twice during the regular season. They beat Platty. They beat a bunch of good teams. They have twenty-something wins."
However, few would have predicted a Knights versus Lakers title game back in November.
No. 3 Oswego State locked up its spot with a solid final weekend of the regular season on the road, beating SUNY Potsdam and upsetting Plattsburgh, each by a score of 4-3.
Since then, the Lakers have kept their streak going in the playoffs. Most recently, completing an incredible seven-day span, which started in Plattsburgh on Feb. 23, with wins over Fredonia (3-2) and the Cardinals (2-1).
No. 1 Geneseo swept its final regular season games at home against Buffalo State (3-2, OT) and Fredonia (6-3) to steal the top spot from Plattsburgh. After receiving a bye into the semifinals, the Knights took down the Bengals for the second weekend in a row, 2-0.
Now, Oswego State and Geneseo see a NCAA Tournament bid on the horizon. Even though D3hockey.com currently has each team in the tournament, win or lose, one can lessen its anxiety on Selection Sunday with a win on Saturday.
Previous matchups
Nov. 22 (at Geneseo):
SUNY Geneseo 7, Oswego State 4
Feb. 14 (at Oswego):
SUNY Geneseo 3, Oswego State 2
By the numbers
As shown by the scoring in each game, offense is a strength of each of these teams. Oswego State (4.00 goals per game) is currently tied for seventh in Division III with Elmira College in terms of scoring. Just a few spots down, Geneseo (3.77) is tied with Plymouth State for 12th best in the country.
When it comes to conference play numbers, the Knights (4.19) rank second, while the Lakers (3.88) hold the No. 3 spot.
Turning focus to the defensive zone, both squads are ranked in the top-third of Division III for team defense. Oswego State (2.26 goals allowed per game) has the No. 15 ranked defense, while Geneseo (2.50) is ranked 21st.
In SUNYAC regular season contests, the Knights (2.50) are No. 2 in the league and the Lakers (2.56) finished tied with Buffalo State for third.
Senior assistant captain Kyle Badham, a physical presence on the ice, believes scoring will come this weekend, but said the defensive zone must be focused on first.
"We definitely want to get hard in there on the forecheck, but we have to make sure we take care of our own end first," Badham said. "If we do that on the defensive side, then it will translate and the offense will come."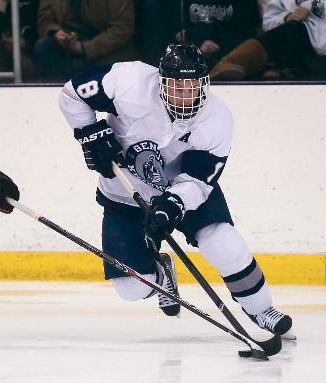 Special teams breakdown
For a matchup between two high-powered offenses, when looking at the power play numbers, the gap expands tremendously.
While the Lakers remain in the top-five among Division III teams, ranked No. 4 at 28.35 percent (36-of-127), the Knights are currently in 47th at 16.92 percent (22-of-130).
However, against SUNYAC opponents, Geneseo's efficiency on the man advantage increases nearly seven percent to 23.7. That mark is third best in the league.
Oswego State (23.40) actually has a lower conversion percentage in league play by about four percent, which places it at No. 4 in the conference.
Looking at short-handed numbers, the Knights and Lakers are currently tied for the No. 37 spot in the Division III rankings on the penalty kill, each at 81.2 percent efficiency; Oswego State is 78-of-96, while Geneseo is 108-of-133.
In league games, similar to on the power play, the Knights' efficiency goes up as the Lakers' goes down. At 83.1 percent, Geneseo finished second in the SUNYAC, while Oswego State (81.0) ended the regular season in third.
Senior captain David Titanic has been one of Oswego State's best penalty killers throughout his career, and has stepped up on the power play this season as well. He said he recognizes the importance of special teams in a game of this magnitude.
"It's huge. In a tough playoff game, like that, you want to be on the plus side of the special teams," Titanic said. "Even if you're plus-one, one power play goal to their zero, it's huge."
"I think our power play has been good lately," Titanic said. "I think our penalty kill could still be better. We have been good these last two playoff games… We have to be sharp against them because they have a lot of weapons."
Goalie matchup
After a season of varying levels of uncertainty about who would start each night for Oswego State, Gosek has chosen Zawadzki during the playoff run.
The freshman played nearly three-fifths of the minutes this season and has impressed with his play. He has amassed a 12-2-2 record, including three shutouts and a 2.01 goals against average and a .924 save percentage.
Zawadzki is ready for a full 60 minutes this time around. In his one period of play against Geneseo back in November, he gave up just one goal on three shots before the Knights scored their final goal on an empty net in the last two minutes.
"They're a very good team. If they weren't, they wouldn't be here," Zawadzki said. "I'm just going to have the same plan going there. I'm going to give my team a chance to win a hockey game."
Zawadzki's successful run at the end of the fall semester through winter break and, more recently, during the final game of the regular season into the playoffs is huge for the Lakers as they eye a SUNYAC championship.
His streak has done wonders for his confidence as the games keep getting bigger.
"Stepping in the first Plattsburgh game gave me a bit of confidence coming in," Zawadzki said. "I have to have that same mentality, playing the way I have been and keep that throughout."
The hot goaltender for Geneseo down the stretch has been Nick Horrigan. The sophomore has lost only once in 13 decisions this season while posting a .935 save percentage and 1.91 goals against average.
While he has pitched only one shutout, Horrigan played well against Oswego State less than month ago, making 35 saves, suggesting he may have what it takes to shut down the Lakers.
Titanic understands how talented the Knights' sophomore goalie is, but said the team's game plan will be the same as it is first all top net-minders.
"He's consistently been good. Like we've been doing to good goalies in the past, we're going to challenge him, putting a lot of pucks on net, creating traffic and hopefully we'll throw him off his game a little bit," Titanic said.
Player to watch
Oswego State junior defenseman Nick Rivait, the Lakers' assistant captain, was a huge factor in the team's success within its own end this season.
However, on a squad filled with talented scorers, his offensive numbers were overshadowed by his teammates. Rivait was the leading scorer among defensemen in SUNYAC play with 16 points (three goals and 13 assists).
He recorded three assists on the final weekend of the regular season and also helped set up the game-tying goal last weekend at SUNY Plattsburgh.
A very talented defensive zone player, Rivait is a skater to look out for this weekend, as his slap shot from the blue line, both at even strength and on the power play, may just be the difference between being crowned champions or runner-ups.