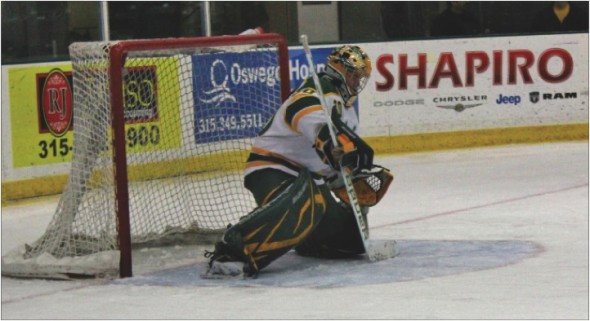 There has not been much controversy when it comes to this season's women's ice hockey team. It has been an incredible season to watch, as the Lakers won the most regular season games in program history, with a great group of seniors leading the charge and several underclassmen stepping up.
The only controversy that has occurred all season with this team has been who will start between the pipes.
With the three goaltenders – senior Catherine Cote, junior Bridget Smith and sophomore Tori Trovato – all receiving playing time, every game is a toss-up on who will start.
But for head coach Diane Dillon, it is not about picking just one to go down the stretch; it is about deciding on a game-by-game basis who will give the team the best chance to win.
"We always let the girls know the night before the game so it gives them each a night to adjust and prepare for what their roles will be in tomorrow's game," Dillon said.
Dillon said she does not think the uncertainty of playing time hurts the chemistry between the three goalies.
"They understand they're a trio," Dillon said. "They're excited for each other, they are supporters of one another and it makes them a strong group."
This approach has worked all season long, as all the other players, according to Dillon, "have belief and faith in all three of them."
When it comes to each individual goalie, they have put up numbers that make it hard not to believe in them.
The senior, Cote, played stretches during the beginning of the season, but has not been between the pipes for Oswego State since giving up five goals to Elmira College at home on Jan. 24.
Dillon explained how Cote is a role model for the two younger goalies.
"She leads by example on the ice, is always mentally prepared, stubborn as heck, hates to give up goals, hates to lose," Dillon said.
It is that kind of mentality that has led her to a 5-4 record, 1.66 goals against average, and a .909 save percentage.
The other upperclassmen of the trio, Smith, was a big part of the Lakers' success the past couple of weekends, picking up two wins over the No. 8 nationally-ranked Utica College Pioneers before making 34 saves in a loss against No. 1 ranked SUNY Plattsburgh on Feb 21. Smith finished the 2013-2014 season with a 6-1-1 record, a team-best 0.99 goals against average and a .956 save percentage.
Trovato, a sophomore, is the youngest Oswego State net-minder, played well this season despite dropping her final start in a 2-0 loss against the Cardinals on Feb. 22.
One would think her strong play would surprise her teammates and head coach, but Dillon said she expected this kind of performance from her young goalie heading into the season.
"As a freshman, she got a lot of playing time because Cote went out with a season-ending injury last season," Dillon said.
Last season's experience helped her prepare for this season and has helped her put up great numbers.
Some followers might see the fact that there is no No. 1 goalie as a problem, but Dillon said the team is lucky to have three starting-quality goalies who each bring their own approach to the net.
"We're fortunate to have this sort of problem," Dillon said. "Any day they are fully prepared. All three of them approach differently. With Bridget being vocal and verbal, Catherine being the mental one and Tori sort of in between… not getting flustered."
It will be interesting to see who will start for the ECAC West play-in game against Buffalo State at the Campus Center Ice Arena tomorrow at 3 p.m., as the team looks to make a big playoff run.
Dillon knows that no matter who she chooses to start the game, two goalies will be disappointed, but stressed that each goalie knows her decision is "all about team."