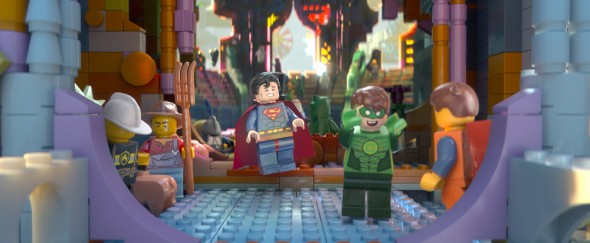 "Everything Is Awesome". It's a song that will stay in your head long after the end credits roll on what is probably the first truly good movie to come out of 2014. It's also a great way to define the film itself. Everything is undoubtedly awesome in "The LEGO Movie," something that was sure to be a hit among kids, but nobody could have predicted it would be this good.
The movie follows Emmet Brickowski (voiced by Chris Pratt, "Her"), an ordinary LEGO figure in a land full of them. But when Emmet is deemed "the Special" and thought to be the savior of LEGO-kind, he must find courage within himself that he never thought he had. Sounds like a typical "Hero's Journey" in LEGO form, right? In a lot of ways it is.
But the film is much more than just a bunch of LEGOs. It has a lot to say about a lot of things. The aforementioned "Everything Is Awesome" song is just one example, as its satirizing people's desire to jump on the bandwagon of the next big hit single.
Even the LEGOs themselves are a metaphor for people lacking originality, they're all just the same yellow-colored bricks following a set of instructions when they probably don't quite know why. Overall, the movie is about people finding what makes them unique – what makes them "special."
Who knew a LEGO movie could have so much social commentary? That's what makes the movie itself special. If you stripped away the surprising amount of social commentary you'd still have a truly entertaining spectacle that people of all ages can enjoy. But an unexpected twist at the end changes everything and adds so much more to it. Some might say it's too random. And at first it is. You're having a grand time with these fantastic LEGO characters and then the story takes a sharp curve. But it's unique and special in its own right, and that's what the movie is all about.
Speaking of characters, these are some highly enjoyable characters and the film garners an impressive assortment of voice actors. To truly appreciate the scope of the voice cast, here's a brief rundown: Elizabeth Banks, Morgan Freeman, Liam Neeson, Will Ferrell, Will Arnett, Charlie Day, Channing Tatum and Jonah Hill. And it's not that these are just random actors to grab an extra buck. They really embody their LEGO counterparts. Why wouldn't you want Morgan Freeman as a powerful wizard? Or Liam Neeson as a corrupt cop? And Will Arnett does his best Batman-growl impression. That's right, Batman is a main character. In fact, you get to see most of the Justice League
"The LEGO Movie" is a fantastic way to start off 2014 and a film that will satisfy all, from kids to seniors. If you walk in expecting just an entertaining kids film, well, you'll get it. But you'll also walk out with so much more. Not to over exaggerate its impact, but just know that it's more than one probably expects, with equal parts heart and humor. You'll be singing "Everything Is Awesome" for some time now. But then again, everyone will be.