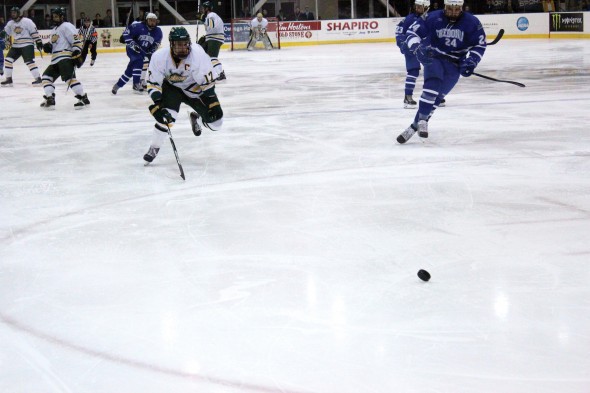 It was expected heading into the 2013-2014 season that the young Oswego State men's ice hockey team would have its bumps and bruises early on, but an opening night loss at home was still a surprise.
A half season later, the Lakers have proved they are a strong squad and enter Steele Hall Ice Arena at SUNY Fredonia looking to avenge their 3-2 overtime loss versus the Blue Devils 12 weeks ago.
Oswego State (11-3-2, 4-2-1) was on a 10-game unbeaten run before falling at Elmira College on Jan. 14, 3-2. Now, the Lakers will look to start a new streak in conference play as they look to break back into the top 10 in the nation, currently ranked eleventh in the USCHO.com poll.
The visitors to SUNY Fredonia this evening will look to muster up some of the momentum from the final two period last Tuesday, during which they outscored the Soaring Eagles 2-0.
The Lakers had no problem scoring during their non-conference schedule, averaging 4.25 goals per game and scoring five goals or more in four of the eight games. In seven conference games before the end of the fall semester Oswego State ranked third in the SUNYAC in scoring at 3.86 goals per game.
On Nov. 1, they were under that average only managing two goals versus the Blue Devils' freshman goalie Chris Eiserman (3-5-3, .897 save percentage, 3.41 goals against average). Eiserman made 38 saves in the game en route to his first collegiate victory in his debut.
However, the Lakers may not see Eiserman tonight as sophomore Jeff Flagler (2-3-0, .932, 2.71) has gotten the start in four of the team's six games this month.
The switch up in net seems to have done some good of late, with SUNY Fredonia currently riding a four-game unbeaten streak. The Blue Devils have won their last three versus Elmira College on Jan. 21 (5-4 at home), Curry College on Jan. 18 (4-0 at home) and Franklin Pierce on Jan. 15 (3-2 on the road) and they tied New England College on the road on Jan. 14, 3-3.
Oswego State has seen its top two goalies play well this month as well. Freshman Matt Zawadzki (7-1-2, .930, 1.75) won four of his six starts during the break, including two shutouts, and sophomore Justin Gilbert won both his starts, including a clean sheet of his own along with two blank periods at Elmira College last week.
The Lakers defense has been strong, allowing fewer than two goals a game during its eight-game non-conference schedule. The six-man unit, led by a strong top pairing of junior assistant captain Nick Rivait and sophomore Denton King, is the core of a defense which is tied for twelfth in the nation in goals allowed average.
SUNY Fredonia (5-8-3, 2-3-2), ranked 56th in the nation in scoring at 2.56 goals per game, will look to the junior tandem of Stephen Castriota and Jared Wynia for an offensive spark, the two combining for 17 of the team's 41 goals (11 of 23 in SUNYAC play). Neither Castriota not Wynia earned a point in the teams' first meeting back in November.
In that first match up, the big players for the Blue Devils were freshman Hunter Long (a goal and an assist) and senior Matt Owczarczak (two assists) who each contributed two points. In fact, Owczarczak found Long for the game-winning goal in overtime. The goal is still Long's only one on the season and the two of them have combined for just seven points in the team's 15 games since.
On the other side of the ice, the hosts will need solid play in their own end to slow down Oswego State. In the first meeting, the Lakers helped out the Blue Devils by going 0-for-3 on the power play and getting off three shots on the chances combined, all three coming on their first chance of the game in the opening period.
SUNY Fredonia might not be so lucky tonight with Oswego State entering Steele Hall championing the nation's third-best power play, converting on 30.4 percent of its man advantages. Leading that charge is freshman Matt Galati who has scored seven of his team-high 15 goals on the power play.
Lakers head coach Ed Gosek will be putting a more battle tested team on the ice tonight than Jeff Meredith's team saw at the Campus Center Ice Arena on Nov. 1,making Oswego State a favorite in the match up.
Player to watch: Oswego State freshman forward Shawn Hulshof: The six-foot two forward scored the Lakers' first goal of the season during the second period of their opener versus the Blue Devils. He had three of his six goals during White Out Weekend to bring his in-conference total to four as his team gets back into SUNYAC play tonight. Quiet over winter break just one goal (Jan. 14 in a 9-3 victory over Salve Regina), the player with one of the best slap shots on the team is ripe for a solid game tonight.
Prediction: 4-1 Oswego State