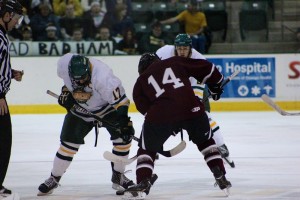 Tonight the Campus Center Ice Arena will host the focal point of White Out Weekend, as the Oswego State men's ice hockey team (4-2, 5-2) plays host to its arch rival, the Plattsburgh State Cardinals.
"This is why is you play college sports, big rivalries. Every sport has them. Some team has their rivalry that they get up for, that the fans come out to dislike, so with us it's Plattsburgh. It's always been Plattsburgh," Oswego State head coach Ed Gosek said.
Senior captain David Titanic understands the magnitude of this game and is ready for his fourth and final White Out game.
"I'm excited, being my last one it's kind sad I guess, but I'm not looking at it that way," Titanic said. "I'm just looking to play my best tonight, go out with a bang and show these young guys the ropes and how to play in these games the next three years."
As usual, this match up pits two nationally ranked squads against each other to add another element of intensity to an already important conference game. In the most recent USCHO.com poll the Lakers are ranked 13th, while the Cardinals hold the number one spot.
This is a series, when one looks at the wins and losses, that has been dominated by Plattsburgh State. The visitors for this evening's contest have won 71 out of 111 contests over the years; however, the Lakers have had the greater success in recent years, winning six of the last 10 games.
Thus far in the 2013-2014 season, it has been the Cardinals proving to be the class of the SUNYAC and one of the premiere squads across the country. They boast a 7-0-1 conference record (9-0-1 overall) good enough to give them a three-point edge over SUNY Geneseo for the lead in the SUNYAC standings.
Led by juniors Alex Jensen (three goals and 10 assists) and Mark Constantine (five goals and six assists) and sophomore Dillan Fox (seven goals and four assists), who are all in the top 10 in the SUNYAC for points, Plattsburgh State has the second-best scoring offense in the conference. They average 4.12 goals per SUNYAC contest.
Although, while the Cardinals are a talented offensive team, their play in their own end is what has been the key to success. They have the top scoring defense and penalty kill in the conference and the nation, allowing just one goal per game and killing all but one opponent power play opportunity so far this season.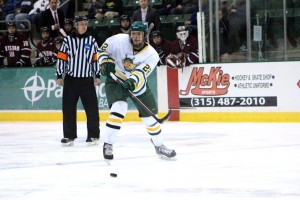 The biggest factor in the defensive success for Plattsburgh State is its goalie, Mathieu Cadieux. Cadieux's statistics this season include: a .99 goals against average, .958 save percentage and three shutouts, all good enough to be top three in the nation. Gosek considers the Cardinals senior arguably the best goalie in the conference.
Looking at Gosek's goalie situation, it has now been confirmed that sophomore Justin Gilbert will be out for an extended period of time with an injury to a finger on his left hand, leaving the crease to freshman Matt Zawadzki.
"Tonight's very exciting, having the chance to play tonight, everybody wants that. It's a privilege, we all deserve that, we're all getting up for it, we're all looking forward to it," Zawadzki said. "I'm excited to have the privilege to play tonight."
Zawadzki has looked good in his four games, posting numbers that place him among the top goalies in the nation.
After last night, Oswego State's skaters are showing signs that reinforcements are coming to help the freshman net minder with some returners stepping up.
Titanic finally scored his first goal of the season in the third period last night and made a gesture afterwards to suggest he knew he had just gotten the monkey off his back. Also, junior assistant captain Bobby Gertsakis contributed three assists versus SUNY Potsdam to bring his season total to six, which is tied for sixth in the conference.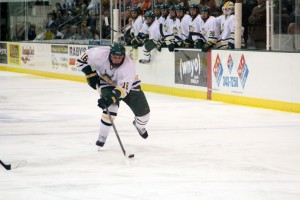 These leaders may be coming on just in time to help the freshmen scoring machine that has made the Lakers' offense go thus far. Freshman Matt Galati added his seventh goal yesterday evening. It was his fifth in SUNYAC play and seventh SUNYAC competition point, a number that stands third best in the conference among freshmen. Oswego State has four other freshmen in the top 10 on that list, including Shawn Hulshof (four goals and three assists), Alex Botten(three goals and three assists), Dylan Smith (three goals and three assists) and Kenny Neil (one goal and seven assists).
With the upperclassmen appearing to step up, Oswego State will have a good test tonight to see whether or not the last two victories against the College at Brockport and SUNY Potsdam are a sign of the team hitting its stride.
"You have be able to manage your emotions and be focused because once the adrenaline wears off it comes down to preparation, discipline, conditioning and the ability to execute, so we'll see where we're at," Gosek said. "We have a bunch of young guys who don't know the difference between Plattsburgh and Potsdam, other than that Plattsburgh's ranked number one in the country, so for us it'll be a good measuring stick to see where we're at at this point in the season."
Puck drop tonight will be once again 7 p.m.