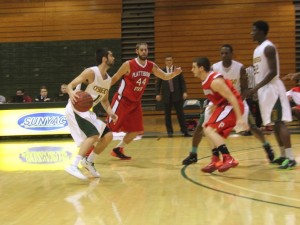 Oswego State (1-0, 5-1) took advantage of a controversial call with 2.3 seconds left to secure a victory against its SUNYAC rivals the Plattsburgh State Cardinals (0-1, 3-2) tonight, 73-70.
The Lakers jumped out to an 11-4 lead and went into halftime with a 39-28 advantage. Senior captain Daniel Ross and freshman point guard Brian Sortino both reached double figures in the opening 20 minutes with 10 points each. The defense played very well, creating nine turnovers in the first half. This solid defense caused problems for the Cardinal offense.
The Lakers came out slow in the first minutes of the second half allowing Plattsburgh State to make a run and cut its deficit. They chipped away and were able to tie the game 49-49 with 11 minutes left to play. It remained a close game the rest of the way.
When the game was 65-62, the Cardinals made a costly error losing control of a rebound off of a missed free throw, giving the Lakers another possession. Sophomore Kyle Covley proceeded to hit a three pointer to make it a six-point game.
Sortino scored a game high 24 points for the Lakers going 7-for-13 from the field and 10-for-13 from the line, including several clutch free throws in the game's final moments. Ross added 18 points of his own and junior Rashawn Pawell led in rebounding with nine.
This was an important win for the Lakers as they take their first game of conference play. They will face the SUNY Potsdam Bears (0-1, 1-5) tomorrow afternoon in their final game of the weekend at 4 p.m.