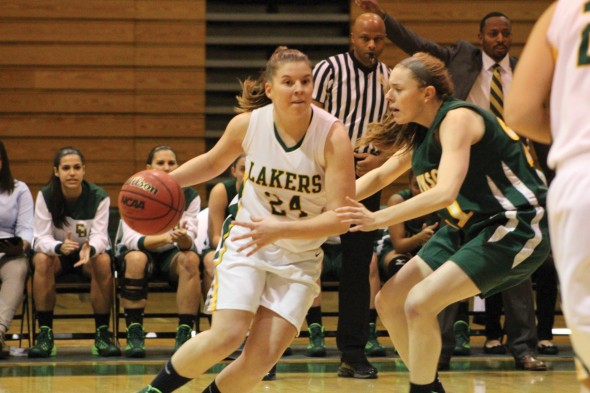 The Oswego State women's basketball team started its season off in prime fashion this past weekend, defeating Clarkson, 76-60, and RIT, 87-74, to take home the Max Ziel Tournament Championship.
The Lakers made a statement on Friday in their 76-60 victory against Clarkson.  Everything was going right for the squad on both ends of the court, with all players contributing in big ways.
The second unit played particularly well in the first half, which consisted of key plays made by freshman guard Mary Mazzella and junior forward Lexi Gillard. Gillard played just 10 minutes but recorded eight points, two rebounds and a blocked shot.
Mazzella excelled at pushing the pace of the game on the fast break and knocked down perimeter shots in what was her first career collegiate game.
"It was really exciting," Mazzella said. "I started out a little nervous, but once the game got flowing it felt really good."
Mazzella scored eight points off the bench and knocked down both her three-point shots in the 18 minutes she played for the Lakers. Distributing the ball was a big part of Mazzella's success, as she recorded five assists as well. Head coach Tracy Bruno liked what she saw from her freshman back up.
"Her confidence as a freshman, I don't know how you can not like that," Bruno said. "You never know how freshmen are going to respond in their first game.  I thought that she entered the game very confident, wasn't afraid to shoot the ball.  She did a great job of pushing pace and I thought she got us up and down the floor, which is great."
Senior guard Jenn Robbins also played well for the Lakers, tallying 14 points, five rebounds and four assists in the win. Robbins explained that the pace of the game is what made scoring come easy for her.
According to Robbins, the win is all that mattered and her excitement was apparent after the game.
"It feels awesome," Robbins said. "Obviously the first win is a great feeling and gets our momentum going for the season."
RIT would prove to be a more difficult challenge on Saturday for the Lakers. After trailing by a point at halftime, not much was going right for the Lakers.
A surge in the second half, however, is what made all the difference, as the Lakers outscored RIT 55-39 in an impressive showcase of senior leadership from Robbins and a solid performance from sophomore guard/forward Heather Hebert.
The two players would go on to be named to the all tournament team as well as Robbins picking up MVP honors. Robbins went for 30 points, including three rebounds and four assists.
Hebert put on a show, dropping a double-double in the 87-74 win. In a game-high 40 minutes played, she scored 19 points and grabbed 14 rebounds in addition to tallying three assists, a blocked shot and a steal.
Everything was working for Robbins as well Saturday night. She credits a lot of her success to her teammates.
"The second half, we were just a different team," Robbins said. "Heather played amazing, Paula defense wise, everyone just stepped it up the in second half and everyone knew what we had to do.  Since some of our shots were falling, we were able to attack the basket and that helped a lot."
Tracy Bruno praised her team's effort in the second half after a slow start in opening half.
"I don't think we could've played much worse in the first half," Bruno said. "I couldn't be more proud with how we responded in the second half."
Oswego State is back in full swing on Wednesday night against Hamilton, as a part of Green Night here in Oswego.
After starting the season 2-0, the Oswego State women's basketball team continued where it left off in the Max Ziel Tournament this past weekend, taking down Hamilton College, 76-72, on Wednesday.
Hamilton College proved to be a much tougher opponent though, especially with the loss of Mazzella.
Bruno said that Mazzella suffered a shoulder injury during Monday's practice, but said it does not look like it will be a time-consuming injury and that Mazzella will be back soon.
For the players that were on the court during Wednesday night's game, the road to victory was much more of a challenge with the size and shooting ability of Hamilton.
The game went down to the wire, with the Lakers only leading by one with under a minute left after a clutch layup from junior guard/forward Heather Hebert. Hebert put on a strong performance overall, tallying 20 points and nine rebounds.
Senior guard Lauren Nunziato hit a couple of free throws to put the Lakers up by three heading into Hamilton's final possession of the game.
Hamilton missed a three-point shot, and Oswego State senior forward Paula Egleston came down with the rebound. Hamilton fouled Egleston, who made one of two free throws to secure the lead with only one second remaining on the clock.
The Lakers' defense intensity struggled throughout the night, but they stepped up when it counted. The players defended well late in the game.
"We pride ourselves on defense," Bruno said. "We talked about after the game that when it's a three-point game, that's why we defend, so that you know when you step out on the floor that you can get a stop."
Oswego State improved to 3-0 with the vitctory and is scheduled to hit the road to take on the University of Rochester on Tuesday at 6 p.m.