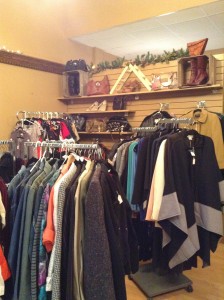 When it comes to clothes shopping, most consumers look for the perfect combination of style, quality and a reasonable price. Those shoppers don't have to go far to find a boutique with affordability and style. The women's consignment boutique, Sensibility Outfitters, is right in Oswego, and offers consumers a chic local shopping option.
Located in suite 13 of Canal Commons, Sensibility Outfitters opened in August when owner Shellie Oatman and her partner, and daughter, MacKenzie Oatman, were inspired to bring consignment shopping and affordable quality clothing to Oswego.
Shellie and MacKenzie Oatman have been working on a business plan for over a year. Shellie frequented consignment stores in cities like New York and found she loved shopping in them. Eventually she decided that she wanted to bring that way of shopping to Oswego.
Sensibility Outfitters brings a new type of thrift shopping to Oswego; it offers name brand clothes at a discount price. Sensibility Outfitters sets people up on accounts so they can bring their clothes in and shop on store credit.
All of the store's clothes are in great condition. Rather than a thrift store where the customer has to sort through all of the old and worn clothing, Sensibility Outfitters does that for the customer. The store only accepts clothing that is in new or excellent condition, and clothing from higher end name brands.
"I wanted people to be able to shop consignment, but feel like they're in an everyday boutique." Oatman.
Originally this consignment boutique opened a smaller store on the second level of Canal Commons. But because of the demand for more space, Sensibility Outfitters moved to a bigger store, the current location on the first level of Canal Commons. The store keeps on growing; in fact now only clothes that are in season due are accepted due to the growth of the store.
Despite the tight space and overwhelming growth in business Shellie Oatman said she is not considering expanding to a new location.
"I don't want to leave," Oatman said. "In the Commons it is really family oriented with all of the businesses here, and despite the challenge, I am really trying to keep it a smaller space and that boutique feel. Although eventually I know I will outgrow this."
Sensibility Outfitters not only offers great clothes and accessories at a lower price, but it also offers a service that separates Sensibility Outfitters from any commercial department store. The store can provide customers with a put together sense of style that fits their budget.
The Oatmans are constantly being asked to offer men's clothing, yet as of now this boutique is solely geared towards women. Despite the demand, they have a full range of female cliental. The store provides for women across the board with products of all sizes and styles, and is still very fashionable. With partner and daughter Mackenzie at age 20, owner and mother Shellie at age 46, and employee and grandmother at age 65, Sensibility Outfitters is a family business that supplies clothing for a full range of women of every age and body type.
Sensibility Outfitters is open six days a week: Monday 10 a.m.- 6 p.m., Tuesday, Wednesday and Friday, 10 a.m.- 7 p.m., Thursday 10 a.m. – 8:30 p.m. and Saturday 9 a.m. -4 p.m. With brand names at low prices, Sensibility Outfitters offers variety and style without leaving Oswego. To learn more about the consignment deals or discount prices, visit the Facebook page.
[slideshow_deploy id='15068′]