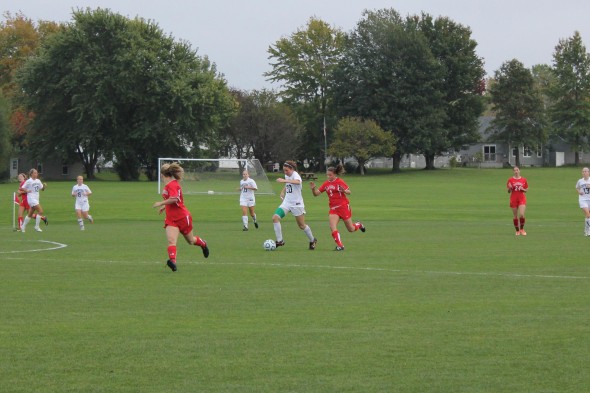 The Lakers are preparing to play The College at Brockport in the quarterfinals of the SUNYAC Tournament Saturday at A. Huntley Parker Jr. Field in Brockport at 11 a.m. The Lakers defeated the Golden Eagles 3-2 in overtime the last time they faced off on Oct. 18. That game was also in Brockport.
The Lakers are in the SUNYAC Tournament for the first time in 11 years, a fact that had Oswego State head coach Brian McGrane beaming with pride for his players.
"It's a great accomplishment for them and it shows how hard they worked in the offseason and throughout the season to get here," McGrane said. "For the few of them that have been here for three or four years, they deserve this opportunity because they have gotten better every year and they've worked hard."
The Lakers booked a ticket into the tournament after at 10-6 season in which they won five conference games and posted a dominant 5-2 record at home. All of that represents the best season the Lakers have had in McGrane's eight-year tenure. This too was not lost on McGrane.
"We had some tough losses in previous years," McGrane said. "So, it means a lot personally and it means a lot to this school and the Athletic Department. I know it means a lot to the girls that are participating."
Despite the success, there is a bit of disappointment among the Lakers at not having a home playoff game. They had a chance of securing the fourth seed in the conference and a home game as they entered last Saturday's game against SUNY Cortland. With the team needing a single point, the Lakers fell to the Red Dragons, losing 5-1.
"We were in the game till the 68th minute," McGrane said. "Then the wheels fell off."
Though a bit disheartening, the Lakers have not let the Cortland game get them down.
"Anytime you lose games and a chance to put yourself in a better situation, there's always disappointment, but knowing you're in is a lot nicer than being like 'OK, we have to win this game to get into the postseason," McGrane said. "You maybe feel bad about it for a couple minutes or a couple hours. Then you got to realize 'OK, we have to prepare for the next game.'"
Their next game will undoubtedly be a tough one. The Golden Eagles are an experienced team with a great goalkeeper, an explosive offensive and a winning culture which will serve them well this postseason.
Brockport has been in the SUNYAC Tournament three of the last five years. In 2011, when the Golden Eagles were not in the tournament, they fell to the Lakers in the ECAC Championship game.
"They have a few advantages over us already," McGrane said. "They're at home and we beat them, so they'll be even hungrier and all their players have had some sort of postseason success."
There are four players in Brockport's lineup with more than 10 points that the Laker defense will have to deal with. Freshman forward Chelsea Stahl is leading the Golden Eagles with eight goals and 17 points.
She scored both Brockport goals in their loss to the Lakers back in October. Even with Stahl's success, McGrane says the Lakers are not going to give her any special attention.
"They have two very good forwards in Vanessa Gillette and Stahl. They also have Katie Gildemeyer, who's at times is either a third striker or an offset forward," McGrane said.
"If you give one special attention, then the other two are going to burn you and we know that. We're focused on doing the best we can with our 1-v-1 defending all over the field and, if we can do that, we'll be there in the end."
With the threat of such a diverse offense, a lot of responsibility will fall on the Lakers' defense.
The combination of defenders Raquel Vescio, Georgia Traynor, Katie Schulz, holding midfielder Amanda Heberger and goalkeeper Alyssa Glasshagel will need to come up big on Saturday.
This defensive quintet surrendered only 25 goals the entire season, 13 of them coming against tough teams in Hamilton College, SUNY Oneonta, and Cortland.
"They've been an important piece to our team all year," McGrane said.
The Lakers' offense will also have their work cut out for them. Brockport has surrendered only 15 goals this season, thanks in large part to their goalkeeper Laura Thompson.
Thompson is 11-4-1 with a goals against average of 0.96.
"She's definitely a good kid to have on your team," Joan Schockow, Brockport head coach said.
McGrane is not worried though.
"We got players that can score," McGrane said. "The question is, will they buy into what we're doing come game time. Brockport has a really good goalie, but we scored on her three times in one game."
Once again, all eyes will be on Laker senior forward and co-captain Nikki Liadka. She is the team's leading scorer with 10 goals and 20 points, despite not having scored in seven games.
McGrane said it is less a matter of his star player being in a slump and more a matter of good, detailed scouting of Liadka and her versatility.
"She didn't score against Fredonia and we won. She didn't score against both Rochester teams and we won. The thing is, when we get in games that we have a lead, our first thought is Nikki goes to the back," McGrane said.
"She's just a versatile player. Yes, she hasn't been successful scoring in the last few games, but she hasn't had very many opportunities. In this conference, everyone knows who she is. When other teams do scouting reports, she's one of the focal points of those reports."
Word from all the players is that they are not worried about the tough team standing in their way and they are confident and ready to play.
"I think the team is very pumped," Liadka said. "It was a little upsetting finding out that we were not going to be able to have a home game, but I think playing on their field makes us that much more excited to beat them."
Vescio, a co-captain and senior, agrees.
"I have a lot of confidence about our team going into the game against Brockport," Vescio said.
"Brockport is one of our big rivals and I truly believe everyone will be ready and excited to play and to change history for SUNY Oswego. I definitely think we will come out on top against Brockport."
A victory for the Lakers will mean a date with Oneonta in the SUNYAC Tournament semifinals. McGrane believes his team can make a run.
"As a coach, you're always looking ahead to the next game," McGrane said. "When I was talking with the other coaches I said, 'Any team in the SUNYAC Tournament has a chance to win it.'"
We will see on Saturday afternoon.