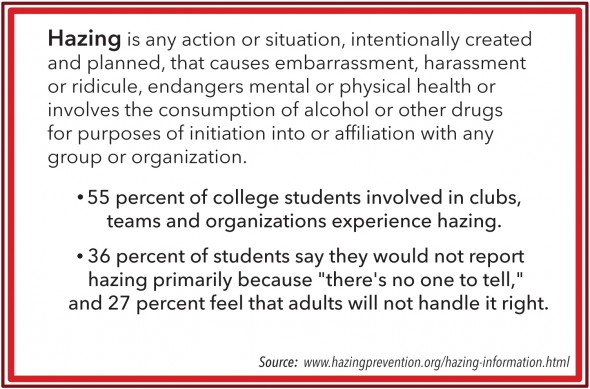 Recently, Cornell's men's lacrosse team was placed on suspension and all of their fall matches were canceled due to a hazing investigation. At a social event in Cornell, a freshman player was allegedly challenged to a keg race organized by returning players. The excessive drinking, allegedly, caused many of the players to throw up. This is not the first investigation into hazing to take place at the university. In 2011, a sophomore died at Cornell following a fraternity hazing ritual.
Every year around this time, Oswego State publishes something on hazing. The most recent campus announcement email stated, "Acts of hazing are subject to criminal prosecution and college disciplinary action." With sports teams starting up and people placing bids and pledging to Greek organizations, it's no wonder the school feels the need to reach out to students about it. Especially with what's going on at Cornell, other SUNY schools will be cracking down on hazing as well.
One major criticism of Greek organizations is the ritualized hazing that takes place within them, but Greek organizations are not the only ones who haze. Sports teams and other selective membership groups are also notorious for hazing. Still, there are some wonderful Greek organizations out there with great purposes. The hazing acts of some Greek organizations should not scare people away from them as a whole.
Hazing is everywhere. Students may find it difficult to join many organizations without experiencing hazing. It's often seen as a natural interaction between old and new members. Even starting a new job and being a new member to a work place, you can experience hazing. However, there is a line that should not be crossed, and it too often is. Hazing should not be malicious or intentionally cruel to the new members. They should not be asked or pressured to participate in anything they do not wish to do. Hazing should not ask or do anything that would be detrimental to the health of new members.
People looking to join any new group or organization should be mindful of the purposes and goals of the organization. If the purposes and goals are honorable, hopefully the organization would not participate in any harmful forms of hazing. Hazing as a whole is inescapable, but people need to be willing to speak out against it and be aware of what is acceptable and what is not. No organization is worth putting your health in jeopardy. If hazing goes too far, you need to have the courage to stand up against it. Even if you don't want to step on any toes, you must stand up for yourself.