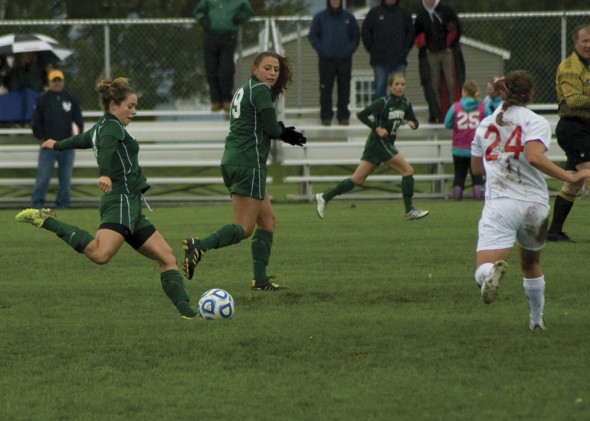 The Oswego State women's soccer team started another season and is preparing for its home opener on Friday against the Utica Pioneers.
Hopes are high for the Lakers after they went 1-1 in the Plattsburgh Tournament this past weekend, giving them a 2-2 overall record. The split came against two tough teams in Bard College and St. Lawrence University, the latter which ranked 80th in the country prior to the tournament.
"Bard was a very athletic, physical team, which I thought we dealt with really well," head coach Brian McGrane said.
Though he felt the Lakers' effort against St. Lawrence was lackluster (they lost 2-1 due in part to the strain of playing two games in less than 24 hours), he still saw some positive signs.
"For our young kids, I thought [the Plattsburgh Tournament] was great," McGrane said. "I thought it was good for them to see the speed of play on short rest."
Past experiences of the players will be important for the Lakers this season. For Friday's game, more than half of the Lakers' roster is freshmen.
"This is the youngest team I've had," McGrane said. "It's got its positives and its negatives… Sometimes, you don't really realize how big certain games are."
With such a young team, the Lakers will need their eight upperclassmen, three of them captains, to provide veteran leadership.
"We like our returning players," McGrane said. "Their leadership has been great."
"We don't have too many upperclassmen," junior midfielder Amanda Heberger said. "But the ones we do have are motivated to make it far…With everyone on the same page, it's going to be easy to get the underclassmen pumped up and ready to go."
The Lakers are now two years removed from their ECAC championship and just one year removed from not qualifying for either the ECAC or the SUNYAC tournaments. They finished the season 7-9 last year and missed the ECAC Tournament by a single game.
A major goal this season for the Lakers is the improvement of their conference record. They won three of their six conference games with only one of those wins coming at home.
McGrane said he believes his team stacks up well against the other SUNYAC teams.
"It's all about being able to play under pressure and playing with effort and energy every single game," McGrane said.
Heberger said she thinks the team will be able to compete at a high level this season.
"I believe we can really go far," Heberger said. "We have a lot of motivation to get into SUNYACs."
Senior captain Nikki Liadka said the team is off to a good start this year considering the competition.
"I think we have a really good chance this year," Liadka said. "We've played some difficult teams already and we have dealt with them."
Liadka led the Lakers in nearly every offensive category, including goals, game-winning goals and points last season. She is off to a great start this season after logging a career-high four goals in the Lakers' season opener on Aug. 31, a 6-0 win against SUNYIT.
Though Liadka has already notched six goals in just four games this season, the Lakers are hoping to avoid having to rely solely on her to put the ball in the back of the net.
The big talk around the Lakers is an increase in depth from last season.
"We lacked depth last year," McGrane said. "When you play [a Friday and Saturday game] in conference, you need more players in that Saturday game. To not be able to have that, I think we wore our players down. This year we are younger. We are deeper and we are more athletic. So I think we're better than we were last year. This may be the best team I've had in my seven years here."
To avoid wearing out their players, the Lakers are carrying 26 players this year as opposed to the 22 they carried last season.
"To have 26 players that are all good, I think it really helps us," Heberger said.
With what they hope is a winning mixture of youth, experience and depth, the Lakers are looking to make a push to the top of the SUNYAC.
"Our goal is to be one of the four or five best teams in the conference," Heberger said.
Liadka said she is confident in her team this year and believes they will surprise some teams.
"I think we have a great group of girls this year and we all work extremely well together," Liadka said. "I think the rest of the teams in the SUNYAC will be surprised with how much we have improved and we will definitely give them some good competition."
Oswego State is back in action again with two home games this weekend. The Lakers will host Utica College on Friday at 4 p.m. before facing Alfred State College at 1 p.m. on Sunday.