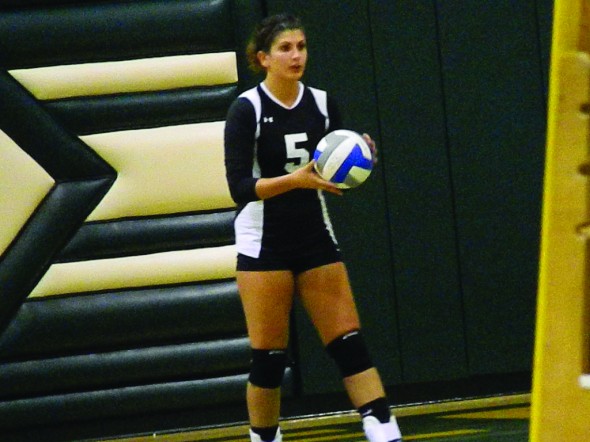 The Oswego State volleyball team wants to continue to improve after making the postseason for the first time in over a decade last season.
The team will look to improve its 12-19 record from last season under the tutelage of J.J. O'Connell, who will be entering his second season as head coach.
"This second year is tricky," O'Connell said. "But I feel we have a lot of stability and organization."
Despite the fact that many of last year's members graduated, including starters, O'Connell feels that the new crop of talent will perform just as well, if not better.
O'Connell describes the freshman trio of outside hitters Sarah Meredith and Emma Moriarty and setter Lauren Edwards as very capable starters. All three were starters for the team's first competition, the SUNY Canton tournament, where the team finished with two wins and one loss.
Despite the new talent on the squad, the veterans are still the key to the team. Seniors Morgan Lavner and Meaghan Puff will be the team captains for the season. Puff was one of the captains on last season's team, while this is Lavner's first season as a captain. The pair of outside hitters will definitely be one of the keys to any of the team's success during the upcoming season.
Other members of the team who are looking to make an impact this year include Stephanie Bailey, an all-conference middle hitter and libero Rachel Ruggaber, who O'Connell described as "an anchor on defense."
With 31 games to play this season, coach O'Connell will be looking to get the most out of all of his players.
"We have more talent than we've had in a long time," O'Connell said. "We also have more size to compete with other teams this year and that's something we haven't had recently."
Having already taken part in the SUNY Canton tournament thus far this season, the remaining competitions Oswego State is scheduled to compete in are the University of Rochester Invitational on Friday and Saturday, the Oswego State Tournament next Friday and Saturday Sept. 14 and the Oswego State Fall Classic Sept. 20 and 21. The Oswego State Tournament and Fall Classic will both be held in Laker Hall at Max Ziel Gymnasium.
Oswego State will also play in SUNYAC Pool Play at Cortland (Sept. 27 and 28), at Potsdam (Oct. 1 and 12) and at Buffalo State (Oct. 25 and 26) later this season.
The Lakers also have games outside of tournaments against Morrisville State, Utica College, Keuka College, Cazenovia College, St. John Fisher College, and SUNY Institute of Technology.
The final phase of Oswego State's season will be competing in the SUNYAC Championships. The Lakers are hoping to win it all this season and believe they are primed to do so after a promising first season with a new head coach, as well as a perfect mixture of new young talent and experienced veteran leaders.
Oswego State will play in the University of Rochester Invitational against non-conference teams this weekend before heading back home to Oswego for their home opener against Morrisville State on Tuesday night (Sept. 10) at 7 p.m. at Max Ziel Gymnasium in Laker Hall.
Steven Cordero
Contributing Writer
sports@oswegonian.com