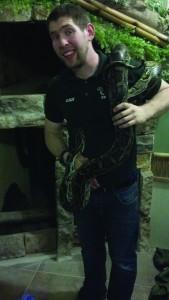 Daniel Oostdyk is not like most 24-year-olds.
"I have a lot of jobs and hobbies," Oostdyk said. "I'm active with the military, my church, SAVAC and, of course, here."
"Here" refers to Grace and Glory Animals, where Dan is the head zookeeper and wildlife rehabilitator. "Here" is what Oostdyk feels has led to the most rewarding moments of his young life.
"I just really enjoy it," Oostdyk said. "I love being relational and it gives me a way to interact with others."
In a typical week, Oostdyk, known as Danny to his family and friends, comes in contact with local people of all ages and animal backgrounds.
"I enjoy seeing people conquer their fears and to help them go through it," Oostdyk said. "I've enjoyed seeing a lot of people who never go into a room with a snake getting to know and hold a snake. I've gone to a lot of schools and given kids opportunities to touch animals they never would have even seen. I try to get everyone to look at the positives of all animals."
Oostdyk discovered his own love of animals growing up in New Jersey. His family owned 21 acres of land, 10 of which housed a horse barn. Oostdyk said he spent time there almost every day and his love of animals took off from there.
"A green iguana was first," Oostdyk said. "But what was fascinating quickly became like a Christmas gift: I always wanted more and I was always looking for the thrill.
His parents purchased land in southwest Oswego, where Grace and Glory is today. Oostdyk learned how to rehab animals after working for a New Jersey-based traveling zoo. He moved to Oswego and became the head zookeeper at Grace and Glory. Before long, there were plenty of reptiles.
"We started out with 20 or 30 and slowly it grew to 40 or 50 and so on," Oostdyk said.
Dan Sr., Oostdyk's father, knows his son had a reason for selecting reptiles.
"He chose reptiles first because he feels like people don't like reptiles," the elder Oostdyk said. "[He] wanted to, kind of, fight their cause."
Most of the reptiles were purchased from expos around the state, according to Oostdyk. The public also donated several other reptiles without a proper place in a household.
"When a kid gets a pet they love it and care for it," the younger Oostdyk said. "Well eventually that kid gets bored with it or leaves for college, so the family will bring it to me to be cared for. No matter what, I'm the reptile guy for the area. Anyone with turtles, snakes, whatever, if they're somewhat in the area they send them to me."
Because Oostdyk is also a wildlife rehabilitator, he educates and introduces his pets to more than just the community. He takes in injured or abandoned wildlife to heal them back to health in hopes of one day returning them to their natural environment.
According to New York State standards for rehabbed wildlife release, the animal needs to recognize its predators, know how to find food and be able to mate.
Oostdyk said it is easy to get attached to any animal, but ultimately he knows what he has to do.
"I have to always remember what my goal is [when taking in injured or abandoned wildlife]," Oostdyk said. "Once they meet those [NYS standards] it's time for them to be released."
Oostdyk plans to continue expanding the current capacities of Grace and Glory Animals. His work with Camp Foundations grows in enrollment every summer and he is hoping to begin rehabbing new animals this summer.
"I want to begin work with foxes and opossums," Oostdyk said. "I would also love to get it set-up for baby deer for under two weeks."
"He's very unique and truly selfless," the eldest Oostdyk said. "He's always looking out for others."
Oostdyk teaches and inspires a community while doing the work he loves. Although, he is a firm believer that 'work' can be avoided.
"I try not to look at it like a job," Oostdyk said. "I don't run an actual zoo, they're my pets. You see the fruit and you enjoy the fruit. Seeing people enter the room and just say, 'Wow,' is the best feeling there is."