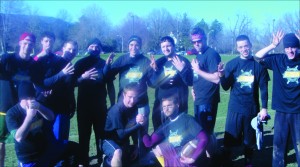 The Oswego State spring flag football tournament took place this week. It featured 18 men's teams, seven co-rec teams and three women's teams who were all competing for the championship.
In the women's league, Rhonda's Angels breezed past the championship, defeated the Space Monkeys by forfeit and Oswego Hurricanes, 39-6, on their way to the championship. Jennifer Robbins and Sarah Hansen led the way for Rhonda's Angels, who secured the championship.
In the co-rec division, six teams faced off in the three-day tournament. The championship contest featured Necessary Roughness and Rolltiders. Necessary Roughness got past Throw Those Balls in a tight, 15-9 matchup in the semifinals, while the Rolltiders defeated Daddie$, 6-0.
In the championship matchup, Necessary Roughness pulled out the victory and secured the championship with a final score of 33-24 after strong performances by Mark Fraboni, Nicole Azero and Stefan Cavedine. In the men's competitive division, there were 18 teams vying for a tournament win.
By the time Sunday came, only four teams remained for a shot at the championship. The first semifinal matchup featured the Hell Hounds taking on NLPP. The Hell Hounds had advanced to the semifinals after blowing out the Twerk Team 41-12 in the quarterfinals.
NLPP won two games over Rolltiders and Two Tres Nina en route to the championship game. The Hell Hounds held a 22-12 lead going into at halftime, but it still appeared to be anyone's game. In the second half, the Hell Hounds locked down NLPP defensively, shutting them out to close out a 36-12 final.In the other semifinal matchup, The Guild was facing off against The Mike Bourke.
The Guild was coming off of a runner-up finish in the fall league, and came out strong to start the tournament with two dominating wins over Team Monkeyfeet and Kibbles N' Vick, 30-0 and 20-7, respectively.The Mike Bourke dominated the competition as well, with two convincing victories. They won 34-6 over Moreland and posted a 25-0 victory over the Saltine Warriors.
Both teams showed they were capable of lighting up the scoreboard, as this one was an offensive outburst. However, after a close 13-12 first half, The Mike Bourke came out strong in the second half on their way to a 40-24 upset victory. That set up the championship contest between The Mike Bourke and defending champions, the No. 1 seed, Hell Hounds.
Each team saw their high-powered offenses shut down by the opposing team's defense. After a converted extra point try, The Mike Bourke held a 7-6 lead at halftime. However, after a few key connections between Bobby Nollet and Brandon Kuzel, Hell Hounds was able to score a second half touchdown and take the victory once again, by a final of 12-7.