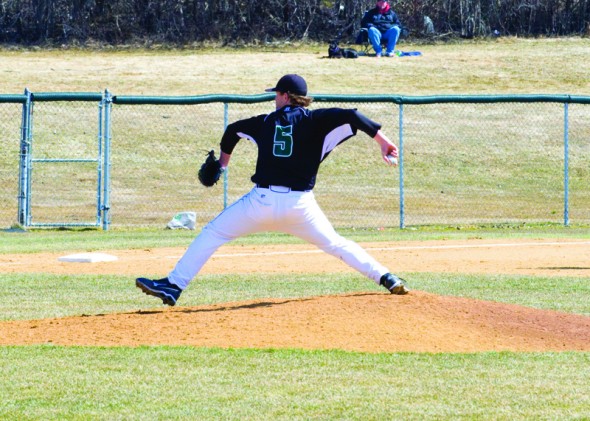 The Oswego State baseball team has gotten off to a solid start to the 2013 season, as the Lakers sit at 9-4 overall and 2-1 within the SUNYAC. Oswego State is looking to rebound from a .500 season in 2012, in which the team finished 20-20 overall with an 8-10 conference mark.
The Lakers began its season on a rough note, losing the first game of a March 2 doubleheader against Rutgers-Camden, 7-4. Oswego State bounced back in a strong way, however, as the Lakers took the second game, 8-7. That win sparked a four-game winning streak in which the Lakers scored eight, 10, 16 and 11 runs, respectively.
The first 10 games for Oswego State were all outside of the conference. The Lakers played its first SUNYAC games against The College at Brockport with a doubleheader on Friday and a single game on Saturday. Oswego State took the first game on Friday, 9-6, but fell in the later game, 8-7. The Lakers took the rubber game the following day, 9-3.
Second-year head coach Scott Landers is pleased with the way his team has played thus far in 2013.
"I think [the season] has been pretty good," Landers said. "We've done a lot of things right, and a couple things wrong, but overall we're at a point where we're at a pretty good place right now."
The Lakers are looking for its first winning season since 2010, and its offense has been their strong suit to this point. Eleven Lakers hold batting averages over .300, with senior catcher Alex Jurczynski sitting right at the cusp with a .294 mark.
"Different guys have stepped up each week or each game," Landers said. "I would say they thrive off each other."
Senior captain and infielder Mike Stark leads the team in hitting with an average of .383. He also leads Oswego State with two home runs and 14 RBI. Stark's home runs came on March 15 against Emory & Henry and in the first win against Brockport.
"Mike Stark's done a great job," Landers said. "He's been a bulldog at the top of the order."
Outfielders Scott Buniak, a junior, and Michael Mascari, a senior, each hold a .375 average this season. Buniak and Mascari both also have nine runs batted in. Buniak has one homer on the season.
Starting pitching has been a troubled area for the Lakers thus far, as four of the seven pitchers who have started a game for Oswego State have an earned run average over five. Senior Adam Bishop has pitched 10.2 innings for the Lakers in three appearances, including one start, and has an ERA of 2.53, the lowest of any pitcher who has thrown at least four innings.
Captains Jon Stevens, a senior, and Thor Miller, a junior, have struggled out of the gate, as they have posted ERAs of 5.10 and 18.00, respectively. Stevens, who is coming off a season in which he went 5-3 in nine starts and had an ERA of 1.95, has started three games in 2013 and gone 2-0. In his first start on March 3 against The College of New Jersey, he gave up eight runs, six earned, in 5.2 innings while striking out five. Steven settled down in his next two starts, going five innings, giving up three runs and two strikeouts on March 17 against Allegheny College and seven innings, three runs, one earned, and two Ks versus Brockport on Saturday.
Stevens said he made some mechanical changes after his first start that led to better performances his next times on the mound.
"There were some mechanical issues I had, and Coach Landers kind of straightened me out in that area," Stevens said. "There were a few things in my mechanics that really helped me out with my velocity and control."
Miller has made three appearances this season, the first two as a starter. His first start came in the second game of the doubleheader against Rutgers-Camden. He lasted just an inning and a third, giving up three runs on five hits and one strikeout. His next start was against Emory & Henry, when he gave up five runs on seven hits with one strikeout in four innings of work. Miller's most recent appearance came in relief in the second game in the doubleheader against Brockport, when he went two-thirds of an inning, giving up four runs on two hits.
Oswego State had its home-opener scheduled for Wednesday against Utica College, but the doubleheader was postponed due to snow on the field. With the postponement, the Lakers will not play a home game until April 10, a doubleheader against St. John Fisher. Landers said the long stretch without playing at home should not affect the Lakers.
"As long as we're on a field, I don't care if we're home or away," Landers said. "I don't really see a difference between being home or away."
The Lakers will resume conference play on Tuesday against SUNY Cortland, and will play their first home SUNYAC game on April 13 against SUNY Oneonta. Oswego State will wrap up the regular season on April 30 on the road against RIT. If the Lakers advance to the SUNYAC Championships, they will begin on May 3.
"Hopefully we're in the mix for the SUNYAC title," Landers said. "Ultimately, we want to be near the top of the SUNYAC, if not, the top."