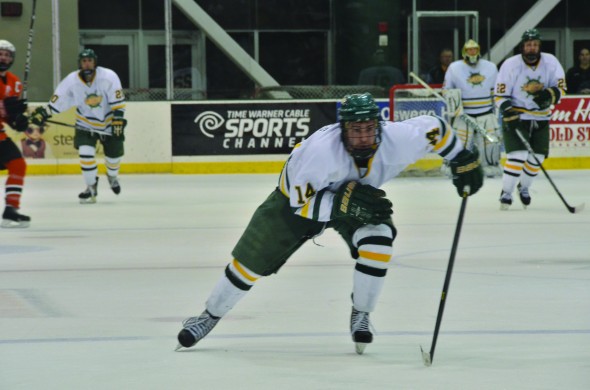 Oswego State men's ice hockey senior forward Paul Rodrigues has been named the 2013 SUNYAC Herb Hammond Most Valuable Player.
In 26 games this season, Rodrigues scored 14 goals and added 28 assists while averaging 1.62 points per game. His point total ranked first in the SUNYAC and second in the country for men's Division III hockey.
"He's been very consistent all four years," Oswego State head coach Ed Gosek said. "But this year I think he took another step forward in his level of play."
Last season, Rodrigues was a Second Team All-Conference honoree and worked in the summer to improve his game. According to Rodrigues, he came into his senior season 20 pounds lighter along with some added muscle, making him faster and stronger on the ice. He credits his fitness to an improved diet, a harder workout plan and a little-sibling rivalry.
"My younger brother goes to Boston University and he gave me a little bit of a workout plan and nutrition plan," Rodrigues said.
His brother, Evan Rodrigues, is a sophomore forward for the Boston University Terriers. Evan is currently tied for third in scoring on his team with 28 points.
"I know he's a better hockey player being in Division I, but we still compete, we still talk every day and he's my best friend. He pushed me to be a better player," Rodrigues said.
The changes he made in the offseason were noticed by the Lakers coaching staff as well.
"He got himself into the best shape possible and that's allowed us to use him on the penalty kill and power play, while also running his normal shift," Gosek said. "He logs a lot of ice time for us."
Over the course of the four years Rodrigues has suited up for the Lakers, the majority of his ice time has come on a line with seniors Luke Moodie and Jon Whitelaw, two of the many teammates that Rodrigues credited with helping him earn his award.
"(The award) really wasn't about me, it was about the team," Rodrigues said. "Whitey could have been the MVP if he didn't get hurt and Moodie is in a league of his own."
Over the span of his career, Rodrigues has accumulated 129 points with 48 goals and 81 assists, earning several
other awards and honors. He was the first Laker to receive the Player of the Year Award since Eric Selleck in 2010 and has also been nominated for National Player of the Year. But Rodrigues says he would give all of his awards up in a second for one thing.
"I want to win a national championship and if I could give away all these things for one, I'd do it in a heartbeat," Rodrigues said.
The Lakers will head to Adrian College on Saturday for a 7 p.m. faceoff in their quarterfinal matchup of the NCAA national tournament. With a win there, Rodrigues will be one step closer to achieving his ultimate goal.