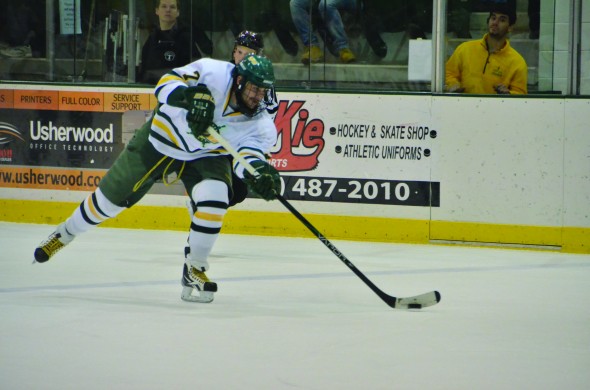 The State University of New York Athletic Conference (SUNYAC) recognized six members of the Oswego State men's ice hockey team Wednesday, Feb. 20 by naming them to the All-Conference team.
Senior forwards Luke Moodie and Paul Rodrigues, along with senior defensemen Zach Josepher were voted First Team All-SUNYAC. Senior forward Chris Brown was voted onto the Second Team, while senior defenseman Jesse McConney and senior goaltender Andrew Hare represent Oswego State on the All-SUNYAC Third Team.
"It's a reflection of their commitment," men's ice hockey head coach Ed Gosek said. "These guys have been doing the right things for four years now. They've paid their dues."
Rodrigues was also named SUNYAC Player of the Year on Monday, an accomplishment that Rodrigues is certainly proud of, yet at the same time knows there is still work to be done.
"Whenever you get an award it's pretty special, but it's not the focus right now," Rodrigues said. "My focus is on winning the SUNYAC championship and the NCAA championship."
Rodrigues' sentiment was echoed by his fellow honorees.
"It's nice to get mentioned, but it means nothing if we don't get it done," linemate Luke Moodie said, referring to Oswego State's SUNYAC finals matchup this Saturday against SUNY Plattsburgh.
Being named to the All-Conference second team is extra rewarding for senior forward and team co-captain Chris Brown. Brown, who did not receive consistent playing time until his junior year, was taken back by the honor.
"To be honest it kind of shocked me a bit," Brown said. "I didn't think I'd be in the running. I just wanted to have a good year, and it feels good to be recognized for it."
Gosek credits Brown's perseverance as the reason for his honor.
"A lot of kids who don't play their freshman or sophomore year will transfer out," Gosek said. "Things didn't come easy for [Brown], but I think it's a testament to his character that he was able to stay patient and take advantage of the opportunity when it presented itself."
Senior goaltender Andrew Hare finished the regular season leading the SUNYAC in both winning percentage and save percentage, while finishing second in goals against average, trailing only Plattsburgh's Mattieu Cadieux. Gosek said one could make the argument that Hare-a Third-Team honoree-could have easily been considered for Second Team, if not First Team honors.
"His consistency was there all year," Gosek said. "I think Cadieux deserves first team, but it's tough to argue that [Hare] didn't deserve second."
Buffalo State's Kevin Carr took home the second team honor.
As for the goaltender himself, Hare was not offended upon learning he would be a third-teamer.
"There are a lot of good goalies in this league, and I have the utmost respect for both Cadieux and Carr," Hare said. "Obviously with the numbers I put up, I thought I would be higher, but they deserve what they got, and I'm happy just being recognized either way.
Oswego State's top defensive pairing of Josepher and McConney were both humbled by their respective honors.
"Obviously it's something to be proud of, it reflects how hard you work during the season," Josepher said.
"It's nice recognition, to be put in the same category as some great players," McConney said.
Rodrigues, Moodie, Brown, Hare, Josepher, McConney, and the rest of the Lakers will face-off against rival Plattsburgh 7 p.m. Saturday in the Campus Center Ice Arena, in hopes of taking home a second SUNYAC title in four years.