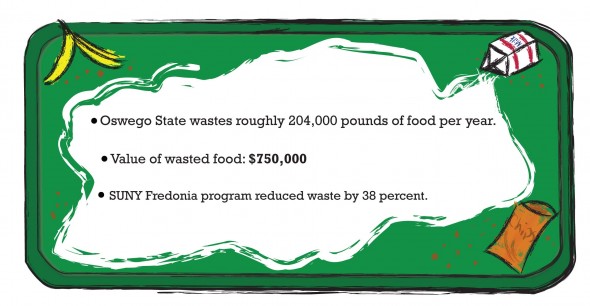 The SUNY Student Assembly Environmental Affairs committee has suggested a proposal to remove trays from dining halls at all SUNY campuses. The committee believes that the move will create a more environmentally conscious SUNY.
According to a press release from SUNY SA, the move is expected to help improve student health, conserve water and food and allow for monetary savings within the institutions. The move comes almost two years after a study conducted by SUNY Fredonia showed that a Trayless Tuesday event reduced food waste an average of 38 percent from 2009 to 2011. The event is part of an annual week-long environmentally friendly Earth Week initiative, which consists of events from a beach clean-up to an electronics recycling drive.
According to Gwen Nieves, Director of Environmental Affairs for SUNY SA, the move will not only save SUNY money, but will reduce the negative impact on the environment.
"[It's] cost effective when you're not spending tons of money on wasted food," Nieves said. "If we didn't waste as much [food] we wouldn't waste as much water."
Nieves also believes that the impact will reach beyond New York to a global level.
"Diverting food waste from landfills reduces carbon dioxide which is like taking seven cars off the road," Nieves said.
Nieves emphasizes that, by wasting food, students are wasting money. Nieves believes that students see the dining halls as having an abundance of food and do not see the impact of wasting food.
"Fourteen percent of households are food insecure," Nieves said. According to the study, in 2011 the school was wasting roughly 204,000 pounds of food, which amounted to approximately $750,000.
Nieves also said that SUNY SA hopes to educate students through the initiative on the value of having a good impact on the environment, being more health conscious and eating more nutritious foods.
"Students are not thinking about what they're throwing away," Nieves said. "We really want to educate the students."
Kevin Rea, SUNY SA President, said that something was sparked within him after seeing the SUNY Fredonia study.
"We're looking for ways to become environmentally friendly," Rea said.
According to Rea, SUNY IT started a Trayless Tuesday program similar to SUNY Fredonia's. Instead of a promoted event annually, SUNY IT expanded upon the idea to add more and more trayless days, eventually reaching the point where students did not notice the lack of trays.
Rea said that the resolution that has been proposed and will be voted upon Saturday to decide whether or not it will be presented to SUNY SA delegates at their annual conference in April. If approved at the conference, the proposal will be worked on with SUNY's Director of Environmental Sustainability, Deborah Howard, to be proposed to each of SUNY's 64 campuses.
"It's up to the schools to embrace it," Rea said. Rea says that they are just looking for SUNY as a whole to push the proposal. He also made it clear that the proposal would be an encouragement to remove trays from dining halls, not a requirement.
One problem the proposal faces is that many campuses outsource the dining hall services. Auxiliary Services is independent from Oswego State and, according to its website on Oswego.edu, is a not-for-profit corporation. This would mean that Oswego State's dining halls would not be required to make the change if the proposal is endorsed by SUNY.
However, Rea said there are benefits to going trayless for corporate dining services, stating that they would not have to cook as much, eventually reducing their costs.
Michael Flaherty, general manager of Auxiliary Services, said in an email he does not believe that a trayless move would work at Oswego State.
"Going trayless in resident dining doesn't really fit with our style of customer service," Flaherty said. "Most of our customers have two or three plates (entree, fresh fruit, salad, yogurt or dessert) and one or two beverages. Not having a tray to hold these items would be very inconvenient or require multiple trips from the point of service to the customers' table. At the end of the meal returning these items to the dish room is also a consideration."
Flaherty also said that there are sanitary issues raised when students go trayless. Flaherty said that each tray is washed to make sure they are germ-free and students can safely place utensils on the tray, compared to tables which are not as sanitary as trays.
Flaherty said that students do have the option to go trayless when in the dining halls.
Dr. Brian Wansink is the Director of the Cornell Food and Brand Lab and studies human eating behaviors. In an interview with Food-Management.com in 2011, Wansink was asked about trayless dining.
"Trayless dining works – or doesn't work – depending on what you are measuring," he said. "It does reduce waste. But if you want better nutrition, it doesn't work. If a person or a child typically takes an entrée, a salad and a dessert, now they are trayless, which two things are they now going to take? We found that going trayless decreased salad purchases by 26 percent in one of our field studies. In the same study, it decreased ice cream and dessert sales by only two percent. Another problem with going trayless is that I believe many of the measures used to show waste savings rend to be exaggerated. They often include liquids and beverages that are thrown away, and the weight of these can outweigh the waste of actual food items."
"It's up to the schools to embrace it," Rea said. Rea added that they are looking for SUNY as a whole to push the proposal. He also made it clear that the proposal would be an encouragement to remove trays from dining halls, not a requirement.
Rea's term is up on June 1, so he is hoping that whoever takes office in his spot will keep the proposal alive.