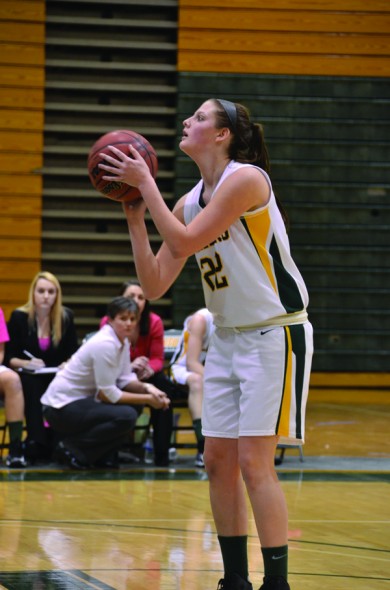 The Lakers bested Oneonta State in a 47-46 thriller Tuesday night, completing their final home game of the season.
It was senior night at Max Ziel gymnasium, which meant special pregame honors for Laker seniors Kassie Kleine, Taryn Smith, Kari Kipper, Meagan Stover, and Evelyn Josbena.
Appropriately, it was Kipper who got the Lakers off to a hot start offensively, scoring eight of Oswego State's first 11 points. However, it was Kleine who was forced to pick up the slack, after Kipper was sidelined by an injury just six minutes into the first half. Kleine would finish with 15 points, as she went five of six from three-point range.
The Lakers would continue to rely on the 3-pointer all night, shooting a combined 28.1percent (9-for-32), outshooting Oneonta's meager 17.6 percent (3-for-17) from downtown. Junior guard Jenn Robbins contributed with two three-pointers of her own, to go along with Kleine's five.
Despite their impressive stroke from beyond the arc, it was the Lakers' defense that took center stage. Josbena provided a dominant inside defensive presence, forcing Oneonta to settle for tough perimeter shots. Josbena also contributed by ripping down 11 rebounds (seven in the first half) and adding four points as well.
Following a three-pointer from junior Jenn Robbins, the Lakers took a 28-20 lead on the Red Dragons with just under four minutes to go in the first half. This lead was short-lived however, as Oneonta came storming back with a 6-0 run of its own to end the half, cutting the Laker lead to 28-26.
In the second half, Kipper would return to the lineup in style, as she nailed her only three-pointer of the game on the Lakers' first possession.
The swarming Laker defense continued, as Oneonta did not record a basket until the 14:53 mark, over five minutes into the half.
After some shooting woes of their own, the Lakers found themselves up by only a point, with just over one minute to play. Following an Oneonta foul, Stover went to the line for two huge free throws. The senior forward went on to hit both her shots and gave Oswego State a three-point cushion. The score was 47-44, with just over 40 seconds to play.
On the following Oneonta possession, it was Stover was called for a foul, sending Oneonta forward Kristen Pappalardo to the line, where she too hit both.
Pappalardo pulled the Red Dragons to within one at 47-46.
With just 10 seconds left on the clock, Oneonta coach Daphne Thompson called a time out, and drew up one final play for her team. After three consecutive missed shot attempts by Oneonta, Kleine finally pulled in the rebound to seal the Laker win.
It was the Lakers' defense that inevitably locked up the game, and clinched the team a birth in the SUNYAC tournament. It was exactly the type of win that Oswego State head coach Tracy Bruno prides herself on.
"We believe in our D," Bruno said. "We would rather have the end of the game come down to us needing a big stop than a big basket."