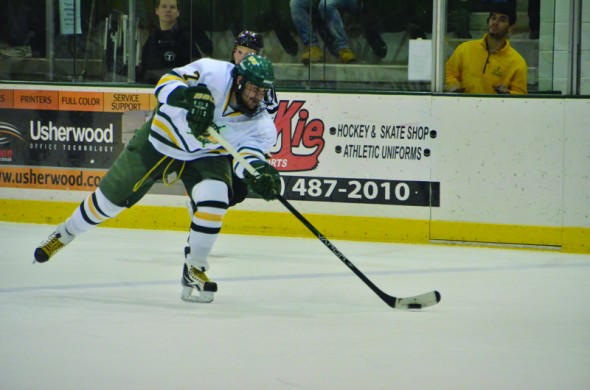 Four years ago, the fate of the historic Oswego State men's hockey program was in the hands of fourteen freshmen. Some had played together, in the same junior league, some on the same team, but most had their own stories, backgrounds and paths that got them to the shores of Lake Ontario. The program was just two seasons removed from its first national championship, the first of any sport in Oswego State's athletic history. But with most of the players that hoisted that trophy gone, and a re-vamped roster, it looked to be a rebuilding year for the Lakers. Ninety-one wins later, that wide-eyed group of hockey players will go down as one of the most successful classes in program history. But with four regular season games remaining, and their lofty championship goal still within reach, their legacy is not set in stone just yet.
So long, seniors. There is a still a chunk of the regular season to be played, and the Lakers will surely return home for at least a playoff game or two, but "Senior Night" on Feb. 1, was the formal farewell to a class that won't soon be forgotten. It was fitting that the Lakers had to play the Morrisville State Mustangs, a team that has given them more fits at home than any other team over the last four seasons, but even more fitting that the captain and leader of the class, Jon Whitelaw, scored the game-winning goal. Oswego State eked out a hard-fought 3-2 victory to finish its regular season home schedule, knowing that it is just the first of many "lasts" to finish the season.
Titanic rising. With only two seniors slated to play on next season's team, the emergence of junior forward David Titanic was almost necessary, and at the season's most crucial stretch, it appears he's plowing right through the iceberg. Titanic will enter the final road trip of the season on a three game goal streak. His markers against Brockport (1/25) and Morrisville (2/1) opened the scoring of each game, and his biggest goal of them all was the game-winner in a critical matchup with Geneseo on Jan. 26, when he launched a shot from the side boards at 15:16 of the third period to break a 3-3 tie.
Conference confidence. Although they dropped both games against Utica this season, the Lakers only other blemish was a 2-1 loss to SUNY Plattsburgh at home on Whiteout Night. Before and since that game, it's been smooth sailing within the SUNYAC. This trend is nothing new. Over the last four seasons, the Lakers have lost only two other regular season conference games: home against Morrisville in 2011, and at Geneseo in 2010. Their success has put them in prime position to once again secure the regular-season title.
Gosek greatness. On Saturday, Jan. 12, head coach Ed Gosek won his 200th career game at the helm of the Lakers. Straight out of a storybook, the historic win came against close friend and predecessor George Roll of Nazareth and Oswego State topped the Golden Flyers, 4-1. Gosek has been the head coach at Oswego State since the 2003-04 season and has never led his team to less than 18 wins or more than nine losses. His Laker teams have been SUNYAC regular-season champions six times, and he has one conference and one national tournament title to his credit. His team has appeared in the NCAA tournament four times, reaching at least the frozen four every time.
Road Wrap-up. The regular season will end with a difficult four-game road trip to Buffalo State, SUNY Fredonia, SUNY Potsdam, and Plattsburgh. Although they are having a down season and have never beaten the Lakers, the Buffalo State Bengals perennially play Oswego State tough at home. Additionally, they played a strong game at the campus center in November, leading by two goals twice, but eventually fell, 5-4. Fredonia is always good for an upset over the Lakers once every four or five times they matchup. The Lakers have not lost to the Blue Devils since the 2011 postseason, but after a big win over Plattsburgh, the Blue Devils will surely keep fighting to secure a SUNYAC postseason spot. The Potsdam Bears are a season away from returning to Maxcy Hall due to renovations, so the Lakers will make their first ever trip to Massena Arena, about 30 minutes farther north. Enough has been said about playing Plattsburgh, but on top of the Lakers' current two-game losing streak to the Cardinals is the fact that it will be senior night for them.
Senior night at the Campus Center Ice Arena had an understandable tone of finality. It was indeed the last time that the Lakers took the ice under "normal" circumstances. It was the final time that a loss wouldn't have been the end of the world. They've been winning on nearly a nightly basis for four years. In the process they've made friendships, they've grown as hockey players, as people and they've treated the Oswego State student body and community to quite a show every Friday and Saturday night from October through March. It's not over yet, but even if it was, as it seemed to be last Friday night, the 14 "not-so-freshmen-anymore" players have made it quite a ride.