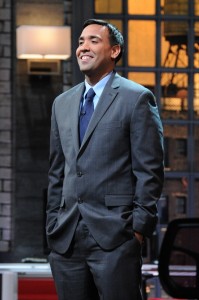 Two Oswego State Alumni will be competing on a new CBS television reality show "The Job" this spring.
The Job is a new reality television show that provides an opportunity to five people to compete for a job with a major company in each episode. The competition starts off with an on-the-job challenge, where the competitors will have to perform a task that is related to the job they applied for. After this challenge, a panel of judges from the company will eliminate one person. Following this, the panel in smaller rounds issues another task. After, another contestant is eliminated and this repeats until two candidates stand. The company must then choose between the two left.
William Medina, '96, and Michael Gewirtzman, '05,will compete for positions with Major League Soccer and Sony Epic records, respectively as part of the show. Medina applied for an associate producer position for MLSsoccer.com after being an elementary school teacher for the past six years. Gewirtzman applied for an artist relations position after being the president of his own artist management company, Vinyl Artist Management, for the past seven years.
Prior to his teaching career, Medina spent nine years in the broadcasting field after he graduated with a degree in Broadcasting Mass Media. Within the past year Medina decided to move back into sports media.
"I sent out resumes," Medina said. "It's hard to get back into something when you haven't been in it for six years."
Medina said he saw an opening for an assistant sports producer position that was listed "for one of the four major leagues."
Medina said that the position with the website will allow him to be "part of the MLS creative process" as well as providing him with on-air opportunities.
Medina spent two years at Oswego State as a junior and senior. The 37 year old spent time with WTOP as sports director and also had an internship with NBC Sports.
"Oswego was great," Medina said, "I wish I had all four years."
Gewirtzman, also coming from the communications department with a degree in journalism, has been recognized by Billboard for his work in the music industry. Gewirtzman is looking to grow within the industry and found the position with Epic Records.
"I was applying for a major label and found out it was on a show," Gewirtzman said. "It was random."
The 29-year-old from Staten Island was looking for opportunities within the industry when he found the opening that will entail similar tasks to what he does with his own company.
Gewirtzman feels that his experiences at Oswego State have led him to where he is today. He was the concert coordinator for SAPB, which had him scheduling the fall and spring concerts for students.
"I love Oswego," Gewirtzman said. "During my time [in Oswego] I discovered what I really wanted to get into."
He said that being able to get his hands in industry-related areas helped him a lot.
"I always found something different about Oswego," Gewirtzman said.
He then said he enjoyed the small community feeling he gained while attending Oswego State. Gewirtzman also said that Alumni provided a big help when he left Oswego State.
Gewirtzman wrote one article for The Oswegonian during his time at Oswego State. He also had a radio show with WNYO for four years, and his senior year the show was simulcast on WTOP. Gewirtzman is also a comedian who worked with the Shawn Cassidy Fan Club occasionally. In 2009, Gewirtzman was a career connector at the Lewis B. O'Donnell Media Summit.
A twist to the show is that three guest companies can offer the contestants a different job at any time during the competition. "The Job" premieres tonight at 8 p.m. on CBS. William Medina's episode of The Job will air March 1, while no airdate has been set for Gewirtzman's episode as of yet.