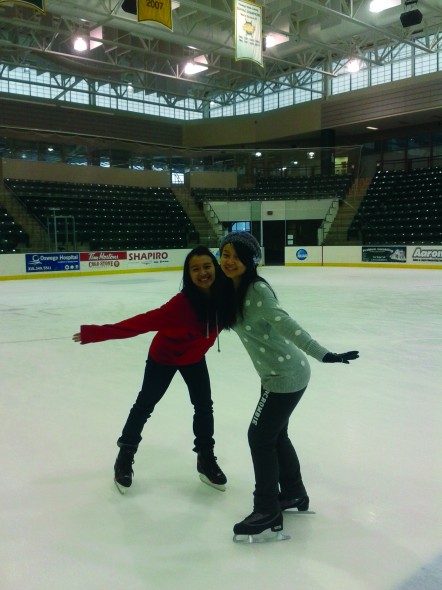 Students and members of the community can take advantage of the opportunity to jump on the ice and skate for a couple of hours at open skate, an activity held several times a week at the Campus Center Arena.
Skaters on campus like junior exchange student Qianhua Chen and senior exchange student Xiaoying Wang said that they have noticed open skates are much more popular on Mondays and weekends. The girls enjoy their time on Tuesdays and Thursdays because it is often quiet, less crowded and more comfortable for skating lessons.
For students on campus who are stressed over finals, ice skating could serve to be relaxing, fun and great exercise. For Wang and Chen, ice skating was something new and exciting to try at Oswego State.
"It's kind of hard to find a real ice skating place [in China]. "Only in a big city like Shanghai could you find one," Wang said.
Both girls learned how to skate with the free skating lessons that are offered on the ice by instructor Chelsea Hart, who is on the women's hockey team. The girls had lessons on Tuesdays and Thursdays free of charge, and successfully learned how to skate.
"It's a new experience," Wang said. "We have a good place here so we should take advantage of it."
Page Owens and Kari Hively, other students who were involved in skating lessons on Tuesday, had positive experiences taking lessons at Oswego State.
"I'm glad we have skating at Oswego," Owens said. "I learned how to skate backwards and basically how to skate."
"It's really fun to be able to come after class," Hively said. "This is my second time [here]. It makes it feel more festive to come and ice skate."
Tim Graber, the Oswego State Skate shop manager sits before the rink to greet skaters and to oversee the skating during each event. The attendants behind the desk check student I.D.s and give students rentals for either hockey skates or figure skates for the price of $2 for both the public and the students. Students can skate without cost during the daytime and for only $1 at night.
Open skate has been going on most of the semester and will continue for several sessions before the semester is over. The weekly schedule is on the open skate website at Oswego.edu/openskate.
"It's a good time to spend with friends," Chen said. "We usually take a lot of pictures of us being silly and us jumping. We have a lot of fun."