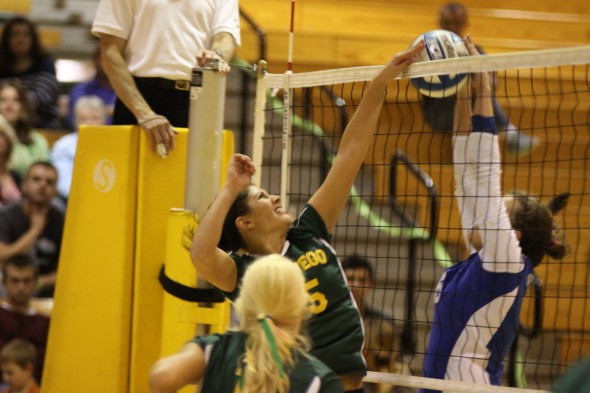 After a roller coaster 2011 season, the Oswego State volleyball team pulled together in 2012 to put together a successful year, which included the program's first SUNYAC playoff berth in 16 years.
The Lakers put together a 12-19 record, earning them the third seed in the West division. Following a few early season losses, first-year head coach J.J. O'Connell said his team turned a corner after a big early season win against St. John Fisher.
"(St. John Fisher) is traditionally a strong program," O'Connell said.
After being down early 1-0 to the Cardinals, the Lakers battled back to win the match in five sets, 3-2.
"It showed we could compete against tougher opponents," O'Connell said.
Later on in the year, O'Connell also pointed to victories over Brockport in SUNYAC pool play that helped propel the Lakers into the playoffs.
"To beat them flat out and earn our spot was pretty big for us," O'Connell said.
Making it to the playoffs for the first time in over a decade was a big success for the Lakers, just one year removed from a turmoil-filled 2011 season which saw many players leave the team in protest of their previous head coach, Betsy Hayden.
"We're all super proud of making the playoffs," junior captain Meaghan Puff said. "We definitely have a lot to work on in the offseason, but overall I'm really proud of what we achieved."
Along with Puff, O'Connell said fellow captain senior Chelsea Crump, junior Sabrina Sutton, and sophomore Stephanie Bailey all had big years for the Lakers.
The foursome of Puff, Crump, Sutton and Bailey were the top four scorers for the Lakers this year. Bailey led the Lakers with 199 points, 169 kills and 50 blocks. Freshman Emily Walser added to the Lakers success with 34 service aces, Crump was second on the teams with 31.
For their efforts, Bailey and Crump were named Second Team All-SUNYAC. The tandem is the first-time Laker volleyball players earned all-conference recognition since 2007 and the first time since 2005 that multiple Lakers were recognized.
"We ran our offense out of the middle this year so we were always looking for them," O'Connell said.
Along with Crump, the Lakers will lose seniors Kelsey Ihle, Jenna Sniffen, Brittany Jones, Stephany Olsheski and Morgan Grimes to graduation.
"I'm glad everything came together for our senior year and we could go out being happy with our team's accomplishments," Crump said.
To fill the graduating seniors' shoes, O'Connell said freshmen Storey Nowaczyk and Megan Dignan will be looked at to fill the libero spot while Kelsey Dillon will have a chance to step up at middle blocker for the Lakers next year.
The Lakers playoff run ended after a run-in with a hot New Paltz team who took the contest, 3-0. Despite the early exit, O'Connell believes his team performed well and has a chance to improve on their success next season.
"We played well, we played pretty tight," O'Connell said. "It showed us what we have to do to reach that level."