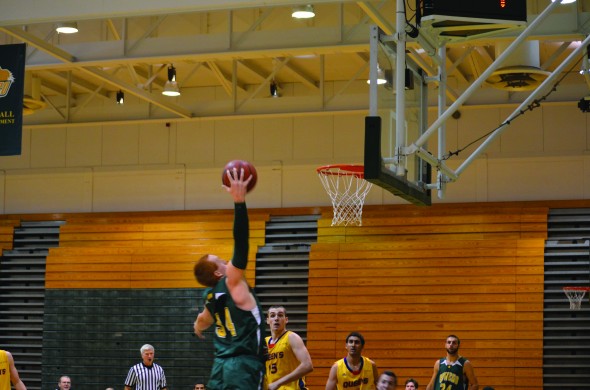 The Oswego State men's basketball team kicked off the 2012-13 season Friday night at Max Ziel Gymnasium, when it took down Queen's University 67-51 in an exhibition.
The Lakers put on a dominating performance throughout the night, pulling ahead by 23 points just 12 minutes into the game. They shot nearly 50 percent in the first half, while holding the Gaels to just 30 percent shooting in the frame.
It was the Lakers' first game since the graduation of two-time SUNYAC player of the year, Chad Burridge. Senior forward Hayden Ward led the way for the Lakers with 22 points and seven rebounds. Senior Brenden Nollet filled in nicely at the center position in Burridge's absence, dropping six points while
hauling in four boards in just 10 minutes. Nollet is looking to rebound from an injury-plagued 2011-2012 season, after playing in just three games.
"I don't think you replace Chad Burridge," second-year head coach Jason Leone said. "I think a key to our season is for our team to understand that great players like Chad are great because of their everyday work habits. Brenden [Nollet] has always worked for all that he has accomplished as a player and as a student. He will continue to get better because he cares and because he is a hard worker by nature."
Seniors Chris Gilkes and Alex Mirabito, along with graduate student Sean Michele, completed Oswego State's starting lineup, which is filled with both experience and excellent leadership. Gilkes and Mirabito both scored nine points, while Michele dished out six assists in the win.
Division II Virginia Intermont
transfer Daniel Ross played admirably in his Laker debut, dropping six points and grabbing three rebounds, while leading the team with three steals. He was not the only new face to play substantial time in their first game, as freshmen Alex Rawa and Elijah McLaurin both tallied more than 20 minutes on the floor in their first action wearing Laker green and gold.
"I just wanted to go out and play well as a team and get the win," Ross said. "The atmosphere of the team and coaching staff is a lot different (than Virginia Intermont) and we have a great group of guys that know how to play and are willing to be unselfish for the benefit of the team."
Junior Greg Faulkner lead the way for the Gaels, picking up a double-double in his 12-point, 10-rebound performance. Faulkner also led the team with four steals.
Junior Nikola Misljencevic and freshmen Patrick Street and Mark Paclibar all hit big three-pointers in the tail end of the second half, but Oswego State's large early lead would ultimately prove to be insurmountable.
"We executed our scouting report well and we had success with different combinations of players on the floor," Leone said. "And our new people and veterans played with great passion and spirit."
The Lakers will look to start the regular season off on a good note with their first regular season game. They will take on D'Youville on Friday, Nov. 16 in the annual Max Ziel Men's Basketball Tournament. The other two teams in the tournament are Medgar Evers and Morrisville State. The Lakers will take on one of the two in either the championship or consolation game on Saturday, Nov. 17.