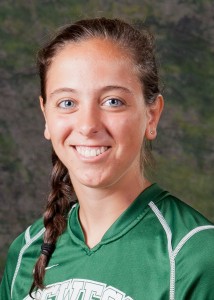 Oswego State women's soccer has a rising star in Brianna Dolan. Not only has she emerged as a leader for the young Laker squad, she has improved her overall game drastically since the 2011 season.
Dolan, the 5'8" sophomore from Fayetteville, N.Y., has already tallied more goals this year than she did during her entire freshman campaign. She says she is more comfortable this year.
"Just being a sophomore now I feel more confident," Dolan said. "There is not as many upperclassmen as last season, and I feel like I can instill my role in the team this year because I am getting a lot of playing time."
Dolan scored the game-deciding goal in Oswego State's season opener against St. Joseph's and scored again the following day during a 2-0 victory against Fairleigh Dickinson.
Dolan said she feels as though the Lakers could improve upon an 11-8 record they compiled in the 2011 season.
"We lost almost 10 seniors and brought in about seven to eight new girls," Dolan said. "We are more cohesive and we really get along great, our team chemistry is definitely there."
Despite being just a sophomore, Dolan's leadership is evident and she is rubbing off on the younger members of the team.
"Bri is one of the hardest workers on the team, she motivates us to be better on and off the field," freshman goalkeeper Alyssa Glasshagel said.
Along with being named one of the Oswego State Athletes of the Week on Sept. 4, Dolan was selected as the SUNYAC Women's Soccer Player of the Week for the first week of the 2012 season. Dolan was coy about elaborating on her award, but she definitely was honored.
"It was definitely a change. I already have more goals than I did last year," Dolan said. "It means something to be recognized on campus and really was a surprise."
It's clear that Dolan is a team first player, and her game on the field reflects that.
"My one weakness is that sometimes I am too unselfish," Dolan said. "I worked a lot in the offseason to become more aggressive and look to score."
Dolan has been a pleasant surprise for the Lakers thus far, and she hopes the team can continue to win.
"I definitely think we can make the ECAC tourney, we really want to make the SUNYAC tournament because it has been so long and it would be great for our team to get there," Dolan said.
For a player that has been so selfless throughout her soccer career, she has been able to adjust this season and could be near the top in goals scored by the end of the season.