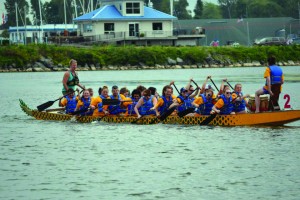 On Saturday, Sept. 8, 21 teams took to Lake Ontario to race in 40 foot-long boats.The dragon boat race was part of the first ever Oswego Dragon Festival, a fundraiser put on by the Oswego YMCA to raise money for the YMCA Strong Kids Foundation.
The event included teams from both the city of Oswego and students from Oswego State. Each team consisted of 20 people to paddle the boat, one drummer to keep the rhythm for the paddlers and one event volunteer to steer the boat. Oswego State sent three teams to the event, two teams of students, one comprised of Campus Recreation employees and another of Glimmerglass and Cooper Fitness Center employees, and one team consisting of Oswego State staff members.
Event organizer Jackie Sheffield said she was happy with the amount of participation from students, but would love to see more involvement next year.
"This event is an excellent way to bring the different parts of the community together," Sheffield said.
"It was a good time and something I hadn't really ever done before. It got intense," Adam Rupczyk, a paddler on the Campus Recreation team, said.
The teams raced for 200 meters on a course set up at Breitbeck Park. The long and narrow boats used in the race were fitted with a decorative dragon head and tail on each end. Dragon boat racing is a popular water sport throughout Asia that has roots dating back 2,000 years. The Oswego YMCA designed the race to follow the traditional Hong Kong style of racing.
Sheffield said the idea for the theme came from a YMCA board member who saw a race firsthand and suggested it for an Oswego fundraising event.
"With Lake Ontario, we had a great set-up for it," Sheffield said.
"The amount of races held had to be cut due to stormy weather," said Sheffield. The original plan called for three races total, two qualifying races and then a championship race. With heavy rain and winds approaching, the event was shortened to one race for each team, with the four teams with the best times advancing to the finals.
"I'm very happy with the outcome, despite the rain," Sheffield said. She also said that they were very pleased with the amount of boats registered, calling the turnout for the first year of the event "phenomenal."
The Lake Effect Lizards, a team from the Oswego community, was the top fundraising team, raising $3,340. Puck-n-Row, a team organized by a group of local hockey parents, finished in first place in the championship round.
Registration for next years' Dragon Festival opened this week. 16 out of the 28 available boats have already been registered, and Sheffield said she expects to sell all 28 boats by next fall.
"Just under $40,000 was raised for the Oswego YMCA Strong Kids Campaign in this year's event," Sheffield said.