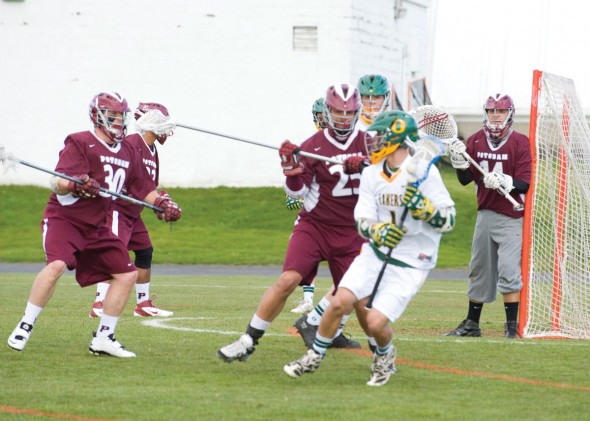 Oswego State had not won a conference game in men's lacrosse since April 24, 2010. Nearly two calendar years and 10 consecutive losses against conference opponents later, the Lakers defeated the Potsdam Bears, 8-6, at Laker Field, Wednesday night.
The Lakers entered the game on a two-game losing streak, both losses coming in one-sided affairs against conference opponents. Despite one of the best nonconference records in program history, the SUNYAC has gotten the better of the Lakers in recent years.
"Conference games are do or die, that's the bottom line," senior captain Eric Miccio said. "We have to understand that execution on defense and offense is essential to our success. We just need to take it one game at a time and that starts with Potsdam on Wednesday."
Oswego State was outshot 53 to 28 in its last game at Plattsburgh, while turning the ball over 26 times. Miccio said that he and fellow senior captain Ian O'Brien stressed to the team how important execution on the field would be against Potsdam during practice this week.
"We will be fine, we just need to be able to keep our execution at a high level even when things get chaotic out there," Miccio said. "Teams are desperate at this time of the year because they want their season to continue; that's what makes this conference so difficult."
Potsdam entered the game coming off a close victory at Brockport, rallying in the fourth quarter to win, 10-9. According to head coach Rick Berkman, the game should not have been that close.
"As far as the late rally at Brockport, if we could have shot better in the first half, I feel the game would never have been that close," Berkman said. "I was disappointed at halftime as we were out shooting them eighteen to six and it was tied at two goals. With that said, we were fortunate to come out on top and it was a good road win to start the conference schedule."
Oswego State and Potsdam came out fighting Wednesday, as each team had eight and nine shots on goal respectively in the first quarter, and the game was tied at three a piece. During the second quarter, Oswego State dominated the possession of the ball, out shooting Potsdam nine to five and taking a 5-3 lead at halftime.
A pair of Oswego State freshmen led the way in the first half, as Connor Khammar had a hat trick through two periods and Brandon Dzwonkowski had two points including a goal with seven seconds left in the first quarter.
Potsdam would answer 26 seconds into the second half, as junior Ryan McConnell scored one of his two points on the night with an unassisted goal off of a fast break. Potsdam would get within one point of Oswego State during the third quarter after senior Ryan Paparella scored on an unassisted goal to make it a 6-5 game.
Oswego State would take back control in the fourth quarter, led by a pair of man-up opportunities that slowed down Potsdam's offense, as well as a goal by junior Casey Balzer that made it an 8-5 game. Potsdam would score a final goal, but a defensive stalemate the final 10 minutes of action led to a final score of 8-6.
"[Oswego State head coach] Martin has done a great job in only his second year," Berkman said. "We needed to play our best if we wanted to beat a very good Oswego team."
The win puts Potsdam at 5-4 on the season and 1-1 in conference play. Oswego State is now 8-2 on the year with a 1-2 conference record. The Lakers' win keeps their playoff hopes alive, and according to Miccio, their expectations of making the SUNYAC playoffs are higher then ever.
"Without a doubt that has been the goal all year," Miccio said. "Nothing has changed, we are more than capable of getting there and making a lot of noise when it comes playoff time."