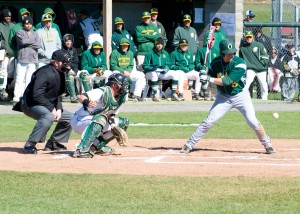 For the first time in 25 years, the Oswego State men's baseball team is under the guidance of a new head coach. Scott Landers has taken the reigns of the Lakers after longtime head coach Frank Paino did not return for this season. And despite the success Oswego State has seen in the past, Landers quickly saw that changes needed to be made for this season.
"I think, to be honest, everything needed to be changed," Landers said. "Right from the culture to the way people approach things, and I think we've done a pretty good job with that."
The first-year coach has led the Lakers to an 11-15 overall record and a 2-5 mark in SUNYAC play. Landers said he has definitely seen improvement in a team that went 19-20 overall in 2011 with only one conference victory.
"I'm pleased with our progress and where we're headed, yet I'm still disappointed in terms of I don't think we are where I thought we would be to this point," Landers said. "We still have to work on a lot of things and sure things up."
One of the areas that Landers said needs to improve is in the bullpen, as relief pitching has been a weak spot for the Lakers thus far.
"We lost five games early because of relief pitching," he said. "Five of our first seven [losses] we were winning in the ninth inning."
Landers moved the team's No. 3 starting pitcher, senior Mark Schaper, to the closer's role to sure up the bullpen and help maintain leads late in games. Schaper has recorded four saves in the role this season.
A major positive for the Lakers this year has been their starting pitchers, especially junior captain and ace of the staff, Jon Stevens.
"Our starting pitching has been very good. We typically get a consistent start out of our starters every time out there," Landers said. "Jon Stevens has done a tremendous job. He's been a bulldog for us. Every time he takes the mound, I think our team believes they can win."
Stevens has a 4-1 record in six starts this season, striking out 28 batters in 41.2 innings while holding hitters to a .210 batting average against him and posting a miniscule 0.86 earned run average.
Also pitching well for Oswego State are junior Adam Bishop and freshman Sheldon Paura. Bishop has compiled a 3.63 ERA in eight appearances, four of which are starts, striking out 14 in 22.1 innings. Paura has a 3.86 ERA in five appearances, all in relief.
As for the offense, Landers said he thought it would be the team's strong suit entering the season, but to this point, it is not where he wants it to be.
"Some days we're good and some days we're bad," Landers said. "There's a lot of guys I'm pleased with, but they've been up and down."
Freshman outfielder John Rauseo leads the team in hitting with a .362 batting average in 58 at bats. Sophomore outfielder Scott Buniak trails him with a .340 average in 94 at bats.
Power has not been apparent this season for Oswego State, as the team has only hit a total of seven home runs. Junior catcher Alex Jurczynski and junior infielder Mike Stark have each hit two homers.
Despite the holes Landers sees in his team, he believes that the Lakers have the ability to finish strong and contend for the postseason.
"I think we can finish great," Landers said. "We obviously can't slip up going forward in these league games, but we have the ability to go forward and to make the conference tournament."
Oswego State has 14 games remaining, including 11 in conference play. Landers said the only thing standing in the Lakers' way of making the SUNYAC tournament is themselves.
"We can go toe-to-toe with anybody physically," Landers said. "Right now, it's whether we can do that mentally."