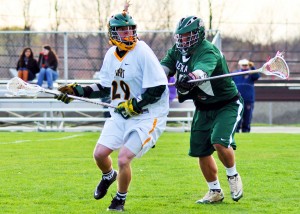 The men's lacrosse program has failed to make the SUNYAC playoffs since the 2009 season, when it was ripped apart by a superior SUNY Cortland team by 22 goals. Following that blistering loss to Cortland, Oswego State has lost 11 of its last 12 games in conference.
This season's team includes just three members from that 2009 playoff team. In fact, the 2012 installment of the Lakers men's lacrosse is unbelievably young.
Oswego State boasts 15 freshmen in contrast to five seniors. Two of its seniors, captains Ian O'Brien and Eric Miccio, made their Oswego State debuts last season after transferring from Onondaga Community College. Even Ryan Martin is only in his second year as head coach, leaving an assistant coaching job at Nazareth College and replacing long-time Oswego State head coach Dan Witmer last fall.
And yet, despite the struggles of the last decade and the unquestioned youth of this program, the Lakers look exponentially better this season.
At 7-0, Oswego State is rivaled only by Cortland as the lone members of the SUNYAC without a loss. O'Brien was recently named the SUNYAC goalie of the week after his performance in the victory over nationally-ranked Ithaca College, and the Lakers have begun receiving votes in the United States Intercollegiate Lacrosse Association (USILA) poll.
"We have improved across the board this season," Martin said. "We are a deeper, smarter and more athletic team. It's more competitive at practice this year and we are a more well-rounded team."
Beginning Friday night, the SUNYAC opens conference play and the spotlight shines on the only two teams that will be in action: The College at Brockport against Oswego State.
"As every Laker knows, a SUNYAC game is something to take to heart," said sophomore Chris Porten, the team's leading goal scorer. "When you play another conference school, emotions flare, pride is up for grabs and everything is left on the field. It's hard to put into words the importance of this game."
Brockport went 4-5 in a tough non-conference schedule this season, where it never played a game at home. With tough losses to RIT, Clarkson University and St. John Fisher early in March, the Golden Eagles have settled in and have won three straight games entering tonight.
Last year, the Golden Eagles ended the Lakers' season with a seven-goal victory on their home field, a result that Oswego State has not forgotten.
"As for the last game in 2011, things are a lot different now," Porten said. "We will be ready for any team that we play mentally and physically, no matter the circumstances, because we've been grinding the last six months for a game like this. It is time to show teams what we are capable of and that our expectations are high."
"We respect every team we play, but we fear no one," Martin said. "We can beat any team."
Both teams are averaging just over 12 goals per game, with Brockport shooting a higher percentage, 36 percent compared to Oswego State 28 percent. In the Lakers' favor, Oswego State's defense has been stifling, holding opponents to just 5.8 goals per game led by the excellent play of O'Brien.
"Ian is playing well," Martin said. "He has been pushed by his teammates as well pushed by himself. He was the MVP of the national championship game when he was at OCC in 2010; he has been one of my best recruits."
Brockport has allowed exactly 10 goals per game on 33 percent shooting, numbers that boast well for Oswego State's offense.
"I feel that our offense has some great leaders this season as compared to last," Porten said. "We have an unparalleled chemistry this year and I'm convinced that has a direct impact with our play on the field."
"We expect double-digit goals every game," Martin said. "It is not always the case, but that's the goal."
The fourth quarter has been a crucial period for Oswego State's success this season, as they have only allowed four goals all season in the fourth quarter. Brockport, on the other hand, has allowed 25 fourth quarter goals this season, an astonishing 27 percent of its opponent's goals.
"It is a younger group, but our team plays resilient and loose," Martin said. "Our guys have done a great job in the fourth quarter all year."
Oswego State may be a young team with less game experience than most of its opponents, but the old days of the Lakers accepting the role of bottom dweller in the SUNYAC appears to be over under the direction of Martin.
"We want to play Oswego lacrosse," Martin said. "We want to ride hard, shorten exchanges and communicate on the field. If we do that, winning will take care of itself."
Brockport and Oswego State face-off at 4 p.m. on Friday at Laker Field. A win for the Lakers would bring them to 8-0 on the season, guaranteeing an overall winning record for the first time in over a decade.