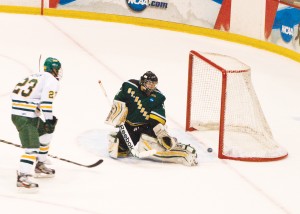 Lake Placid is a special place. The D-III men's ice hockey Championships, held in the city of miracles were simply meant to be played there. The 2011-12 Oswego State Lakers fell just short of bringing home a national title, but their run from the beginning of the season to its culmination at the Olympic Center. It left us all with memories to be cherished forever. Although I still have a year of school left, I can already sense how much I am going to miss Lakers hockey. Heck, I am already thinking about next season. Before getting too far ahead of myself, here is my final 2011-12 season review.
Mr. Overtime. When one scores three overtime goals over the course of two seasons, one can not help but get a reputation for being clutch, and Paul Rodrigues is just that. He propelled the Lakers to their fourth-ever national championship game when he scored 6:20 into overtime to defeat the Amherst Lord Jeffs, 2-1 in the semifinal round. Rodrigues had a memorable season, setting career-highs in goals, assists and points. His overtime heroics may have only been topped by his five goal, six point performance against Morrisville State on Feb. 4.
Beware of Hare. It is easy to overlook exactly how good Andrew Hare was this season in between the pipes. The junior D-I transfer from Niagara University set the program record for goals against average (1.75), while tying Tyson Gayda's (02-03) record for most shutouts in a season with four. Hare finished in the top five in the nation in every goaltending category. Season highlights for Hare included a shutout of SUNY Plattsburgh on White Out night (Feb. 17) as well as a blanking of Elmira in the NCAA Quarterfinal (Mar. 10). His 43-save performance against Amherst in the national semifinal was a major reason that the Lakers had a chance to play for a national title.
A for the D. I have said many times that this year's Laker squad was the best defensive team that I have yet to see in my three years here. Juniors Jesse McConney and Taylor Farris both made major strides this season, and combined with the D-I experience of Tim Carr and Zack Josepher, Oswego State set a team record for fewest goals allowed in a season by surrendering a total of 54. The record they broke was 56, set during the national championship-winning season of 2006-07.
White noise. I'm running out of puns for Jon Whitelaw's name, but how he did not receive SUNYAC Player of the Year nor All-American first team honors is beyond me. Whitelaw joined the 100-point club this season while leading the team and setting a career high with 19 goals. He also led team with 41 points, and scored a point in 14 consecutive games from Jan. 13 through March 10. He netted his first career hat trick in a 4-1 win over Buffalo State at home on Feb. 11. The "A" on Whitelaw's sweater should change to a "C" for his senior season.
One last shot. Barring any transfers, the Lakers will enter 2012-13 with 14 seniors on the roster, most of whom have now endured three straight seasons of Frozen Four heartbreaks. Ten of the top 11 point scorers from this past season return one last time to try and come together and win that final game for a national championship. Their last shot may also be their best.
Close the book on yet another great season of Oswego State Lakers hockey. Even though the final page was not written the way we all had hoped, it was at least written, and that is a step in the right direction. Good-bye and thank you to Andrew Mather, Ian Boots, Hank Vanboxmeer, Jared Anderson and Paul Beckwith, and hello to the offseason ahead where we sit patiently and wait until that little black disc once again hits the frozen pond of the Campus Center Ice Arena and the roaring crowd cheers on the green and gold to heave away off to Lake Placid once more.