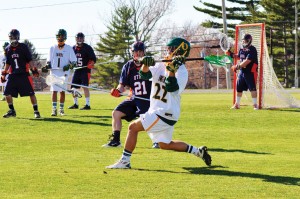 The Oswego State men's lacrosse program finished the 2011 season on a six-game losing streak and entered the 2012 season with only five returning seniors.
And yet, despite boasting a young roster including 15 freshmen, the Lakers have already matched last season's win total of five in this season's first five games.
In fact, Wednesday's 13-7 victory against rival Utica College marks the fastest start the men's lacrosse program has had since 1996, something that makes second-year head coach Ryan Martin very proud.
"The coaching staff was pleased with the effort of the players this week," Martin said. "It was great to see everyone on the team play and contribute significantly."
The rivalry with Utica has been heating up in recent years. In the team's last three match-ups, Utica has had a slight 29-27 edge in goals scored, despite Oswego State winning two out of the three games. In 2010, the game was dominated by unsportsmanlike penalties and over 28 combined penalty minutes for both teams, as Oswego State won 10-9.
As the two teams prepared for Wednesday's game, the players said they couldn't help but feel anxious to get back on the field to renew the rivalry.
"I am expecting nothing less than a battle Wednesday," said sophomore attacker Chris Porten. "All the guys are hearing the stories from (Ian) O'Brien and (Eric) Miccio about playing Utica and all the young guys can't wait to get on the field."
"I expect this year's game to be very close," said Utica head coach Mike Parnell. "Over the past few years, it always seems to be a one-goal game."
Martin, who edged out Parnell's team last season in double overtime, explained that competing with Utica College comes down to capitalizing on all opportunities.
"We know that we must be ready to take advantage of transition opportunities as well as man-up situations," Martin said. "In our past experience with Utica, we feel those are two areas that will present opportunities. We must be ready to capitalize on them."
Wednesday's match up started quickly, as both teams scored goals within the first five minutes of play. Oswego State freshman Connor Khammar scored the first of his two goals at the 13:34 mark, followed by Utica College's Ben Winkler scoring at the 11:53 mark.
The pacing of the game slowed considerably as both defenses settled in and the score was knotted up at three goals a piece at the end of the first quarter. The second quarter, however, was where Oswego State took a lead it would not relinquish.
Behind goals from Porten, Khammar, freshman Ben Morrill and senior Britt Leone, Oswego State would go into halftime ahead 7-4. The Lakers had 33 shots in the first quarter compared to just 11 attempts by Utica, and Oswego State did not allow a single extra-man opportunity for the Pioneers.
The second half started off as a defensive stronghold, as both teams remained scoreless for roughly seven minutes. At the 8:10 mark, Oswego State junior Casey Balzer scored to push the score to 8-4. Utica would score a pair of goals in the third quarter, but Oswego State answered each goal and maintained a four-goal lead entering the fourth quarter.
Oswego State came out in the fourth quarter firing, scoring two goals in the first three minutes and extending the lead to 12-6. Utica scored its final goal at the 9:17 mark, as Oswego State's defense shut the Pioneers down for the rest of the afternoon. Freshman Cody Hoose added his second goal and sixth point of the contest with 2:55 left to seal the victory for Oswego State.
In addition to a six-point outing for Hoose, fellow freshman Khammar added two goals and Balzer recorded four goals, his second hat trick of the season. Porten finished with three points on two goals and an assist.
Through five games, Oswego State is outscoring opponents 71-28, a statistic Porten believes is owed to the team bonding during their time spent together in North Carolina during the spring break.
"It was a real treat to go down to North Carolina," Porten said. "We built up a lot of chemistry. Coach (Martin) had us staying with randomly selected roommates from the team and that really helped bring us together."
The Lakers moved to 3-0 on the season with a 9-8 win over Greensboro College in North Carolina. Upon returning to New York, the Lakers traveled to Utica to play SUNYIT, where Oswego State looked to be in full gear, winning 21-4.
"The most impressive thing about Oswego State's lacrosse team is their depth and fundamentals," said SUNYIT sophomore defenseman Justus Stahrr. "Teams looking to face Oswego won't see anything fancy. They are a solid fundamental team that can beat you simply by playing the game of lacrosse and by putting fresh legs on the field."
"We take our season one game at a time," Porten said. "Obviously being unbeaten is good, but we want to take care of teams one by one. I don't want anyone on this team to get used to losing."
Oswego State travels to Ithaca College on Sunday. Ithaca is also undefeated and currently ranked 18th in the country. Oswego State is 4-0 on the road this season.