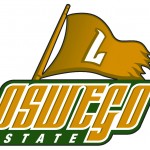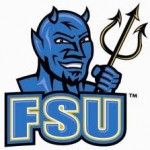 It's deja vu all over again in the SUNYAC semifinals, as the top-ranked Oswego State men's ice hockey team hosts SUNY Fredonia in a rematch of last year's semifinal game that saw the Blue Devils stun the Lakers in overtime.
Fredonia's Ben Waldman scored the game-winning goal at 11:34 of overtime to give the Blue Devils a 2-1 victory over the Lakers. Fredonia goaltender Mark Friese recorded 43 saves. The win sent Fredonia to the SUNYAC championship game against SUNY Plattsburgh, a game they would lose 4-1.
This year, Waldman, a junior, has accumulated 13 points on three goals and 10 assists. He has tallied at least one point in every playoff game he has appeared in. In four career playoff games, Waldman has scored six goals, including a hat trick in last year's SUNYAC quarterfinal win against Buffalo State. Waldman was held to one assist in two game's this season against the Lakers.
Earlier this month, the Lakers embarrassed the Blue Devils, 10-2, at the Campus Center Ice Arena, where Saturday's game will take place. Oswego State scored five goals in the first period and four goals in the second period en rout to the eight-goal margin. Junior forwards Jon Whitelaw and Chris Muise scored two goals a piece and junior goaltender Andrew Hare finished with 25 saves. Friesen lasted just 7:57, allowing four goals on seven shots before being replaced by Jeff Holloway.
The Blue Devils will have a short turnaround after defeating fourth-seeded SUNY Geneseo, 4-1, Wednesday night at the Ira S. Wilson Ice Arena in Geneseo, N.Y. Tied 1-1 after two periods, the Blue Devils scored three goals in the third period, including an empty-net goal by Andrew Christ with 39 seconds remaining in regulation to ice the game. Christ scored twice and added an assist for a three-point night.
The key moment in the game came when Fredonia killed off a five-minute checking from behind penalty at the end of the second period and into the third. Four minutes after killing off the penalty, The Blue Devils scored twice in a span of 20 seconds to seize the momentum. Friesen finished with 20 saves.
Despite earning the fifth seed in the conference playoffs, the Blue Devils are 0-5-1 against the SUNYAC's top three teams (Oswego State, Plattsburgh and Buffalo State). Fredonia's best win this season was a 3-2 overtime victory over Neumann University on Jan. 14.
The Blue Devils are led offensively by senior forward Bryan Ross, who has amassed 36 points on a team-leading 10 goals and a team-leading 26 assists. He has two game-winning goals and one power-play goal this season. He has also proven to be a disciplined  Ross has tallied 15 more points than Mike Muhs, who is second on the team with 21 points on eight goals and 13 assists. Ross is tied for 12th in Division III scoring. His 26 assists is tied for fifth in Division III.
Fredonia's offense ranks 28th in Division III at 3.36 goals per game. However, the Blue Devils have not surpassed the three-goal mark against the SUNYAC's top three teams and have not scored more than two goals in a game against Oswego State since Jan. 22, 2011. Friesen will be relied on heavily against the Lakers, as Fredonia cannot afford to fall behind early against an Oswego State team that is 12-1-1 at home this season. Friesen, a sophomore, has amassed a 12-8-2 record in net with a .918 save percentage and a 2.59 goals against average.
Oswego State will not overlook the Blue Devils for a second consecutive year with the potential of playing archrival Plattsburgh the following Saturday in the SUNYAC final. The Laker offense ranks third in Division III at 4.64 goals per game and has the potential to hang five goals in the first period once again against the Blue Devils. The Lakers have surpassed four goals 13 times this season. The Lakers have three players who average over a point per game. Junior forwards Jon Whitelaw (1.48), Paul Rodrigues (1.43) and Luke Moodie (1.35) are the top three scorers on the team and all play on the same line. Whitelaw leads the team in scoring with 37 points on 17 goals and 20 assists. Rodrigues leads the team in assists with 22 and power-play goals with seven.
The Laker offense is just as strong as the Laker defense, ranking second with 1.72 goals allowed per game. Amherst leads Division III in defense at 1.71 goals allowed per game. Oswego State is coming off back-to-back shutouts against Plattsburgh and Potsdam and have allowed one or fewer goals 12 times this season. Junior goaltender Andrew Hare has been a key reason for the success, going 18-2-2 with a .934 save percentage and a 1.65 goals against average. Hare's save percentage is tied for third in Division III and his goals against average is third.
Oswego State has the better power play and penalty kill, statistically. The Lakers have the ninth-best power play unit in Division III and could have plenty of opportunities, as the Blue Devils commit roughly 18 penalty minutes per game. The Lakers score on 25.5 percent of their chances. Oswego State commits just over 17 penalty minutes a game, and Fredonia's power play ranks 22nd with a 21.5 percent success rate. The Oswego State penalty kill ranks seventh, killing off 87.6 percent of opponents' power plays. The Lakers have allowed just 16 power-play goals this season. Fredonia's penalty kill ranks 25th at 83.6 percent and has allowed 21 power-play goals this season.
The top-ranked Lakers host the fifth-seeded Blue Devils on Saturday, March 25 at 7 p.m. at the Campus Center Ice Arena in the SUNYAC semifinals. The winner will advance to the SUNYAC final and will play the winner of the Buffalo State/Plattsburgh game.