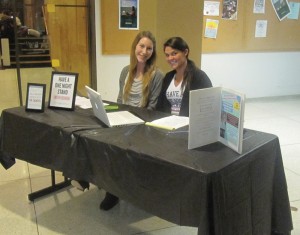 With auditions complete and 20 models lined up, the staff of Rent the Runway at Oswego State is working toward the charity fashion show, which it will host on April 13. The Child Advocacy Center of Oswego County will be the beneficiary from the fundraiser.
Models will showcase rented designer dresses in the Hewitt Union Ballroom from 4 p.m. to 7 p.m. These dresses are available online for anyone to rent, ranging in size from zero to 12 plus and price from $40 to over $200.
Rent the Runway started in 2009 and was named one of the top 50 websites of 2010 by TIME, and one of the 10 websites that will change the way you shop online by Cosmopolitan. College students are customers they target and they hire students as interns to better display their dresses to their target population.
Gloria Grimaldi is the team manager and social media representative intern at Rent the Runway, the Oswego State chapter. She came across the internship opportunity following the company online. In preparation for the event at Oswego she has created a small public relations, marketing and coordination team, but is still looking for volunteers. They receive no monetary support from Student Association so the cost to rent the dresses is completely out of pocket for the organization.
To date, the group has had a street style contest to bring attention to the organization. They have also laid a strong social media groundwork, including a blog on the official Rent the Runway website. Grimaldi said she is very happy with the publicity and reaction their social media efforts garnered which was started early on.
Marketing representative Brenda Singleton said starting up is hard work and time consuming but well worth it.
"I'm fairly encouraged. We're pretty new. We're up and coming," Singleton said. "We want to keep Rent the Runway alive."
The staff said choosing a charity was difficult as well. After consideration they decided to support the effort to prevent child abuse in America.