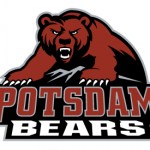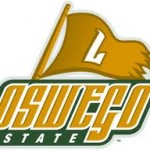 A day after shutting out archrival SUNY Plattsburgh on Friday, the Oswego State men's ice hockey team closed out the regular season with yet another shut out, defeating SUNY Potsdam, 3-0, on Saturday night at the Campus Center Ice Arena on Senior Night.
On a night where the Lakers honored their five seniors, it was the juniors who provided the offense and the defense, as Oswego State finished the regular season unbeaten in conference play, going 14-0-2 against SUNYAC opponents. Junior goaltender Andrew Hare pitched his second shutout in as many nights, recording 19 saves to earn his 18th win in net this season.
After a scoreless first period that featured no penalties, Oswego State got on the scoreboard at 9:03 of the second period with a power-play goal scored by junior forward Tyler Leimbrock. Following a holding penalty by Potsdam's Sy Nutkevitch, senior forward and assistant captain Ian Boots fired a shot on net that was blocked aside by goaltender Kevin McFarland. McFarland left a rebound attempt to his right and Leimbrock corralled the loose puck and beat Nutkevitch stick side to give the Lakers the lead.
The Lakers took control of the game in the second period, outshooting the Bears, 22-4, in the frame and committing just one penalty.
Oswego State struck again at 13:23 of the second period when junior forward and assistant captain Jon Whitelaw scored his team-leading 17th goal to give the Lakers a two-goal lead. Junior defenseman Tim Carr fed Whitelaw with a pass to the left faceoff circle and Whitelaw wristed a shot past Nutkevitch stick side. Whitelaw is currently on an 11-game scoring streak that started back on Jan. 13 against Curry College.
Junior forward Matt Singleton added a shorthanded empty-net goal with 22 seconds remaining to seal the victory for the Lakers.
McFarland finished with 44 saves on 46 shots faced in a losing effort for the Bears, who came into the game needing a win or a Brockport loss at Morrisville State College to clinch the sixth and final playoff spot. Although the Bears lost, they got help from the Mustangs, who defeated the Golden Eagles, 2-1, at the Iceplex.
At the conclusion of the game, the Lakers honored their five seniors in a ceremony held on the ice. Forwards Andrew Mather and Boots, defensemen Hank van Boxmeer and Jared Anderson and goaltender Paul Beckwith were honored for their achievements both on and off the ice for the Lakers. The five seniors led Oswego State to one SUNYAC championship and two consecutive Frozen Fours.
The Lakers will host a home playoff game on Saturday, Feb. 25, at 7 p.m. at the Campus Center Ice Arena. Oswego State will play either fourth-seed Geneseo, fifth-seed Fredonia or sixth-seed Potsdam.