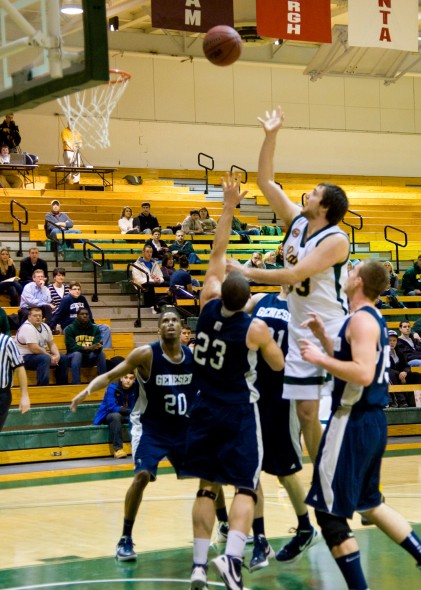 Junior forward Hayden Ward recorded a game-high 24 points and 12 rebounds to lead the Oswego State men's basketball team past SUNY Geneseo, 67-56, for its 11th consecutive victory Tuesday night at Max Ziel Gymnasium.
Ward's first points did not come until there were 5:57 left in the first half, and he scored his final points with 13:10 remaining in the game, but that nearly 13-minute outburst was the reason the Lakers (20-3, 16-0 SUNYAC) walked away victorious.
Ward's first bucket cut the Blue Knights' (11-12, 9-7 SUNYAC) early lead to 16-8, and gave the Lakers their first points in over two minutes.
"I thought we got off to a poor start in terms of our energy and our effort," Oswego State head coach Jason Leone said. "They had a wrinkle defensively that we haven't seen yet."
Leone said that it took the Lakers five or six possessions to figure out Geneseo's defensive scheme, which included running a zone base, but having one man cover senior guard Sean Michele, who leads Division III in 3-point shooting percentage. But once the Lakers were able to figure it out, the points came in bunches, with a majority of them coming from Ward.
Oswego State was able to clamp down defensively after a sloppy beginning to the game, which included eight turnovers and resulted in a deficit that at its highest point reached 10.
The Lakers outscored the Blue Knights 16-5 in the final six minutes of the half, and entered the break with a 24-21 lead, which they would never relinquish. Ward contributed 10 points during that span.
"I thought our defense carried us for the last 10 minutes of the half," Leone said. "When your shots aren't falling, it's important for your defense to carry you throughout those nights."
"I think we just woke up a little bit," Ward said. "People came off the bench and really stepped up, gave us a little bit of energy and helped us get going."
Ward continued his intense scoring pace in the second half, tallying the Lakers' first six points of the half and 10 of the team's first 12.
"I thought I played well," Ward said. "I made some shots, especially in the second half. I thought I was getting into a good rhythm."
"[Ward is] an extremely good 3-point shooter and a good scorer," Leone said. "He's really a multi-faceted offensive threat."
The Lakers held a 42-32 advantage when Ward scored his final points. The Lakers were able to increase their lead to 14 with just over nine minutes remaining, the highest the margin would reach.
The Blue Knights were able to cut the lead to six with 5:23 left in the game, but that was as close as they would get, as the Lakers were able to hold on for the victory.
Senior guard Conor Monaghan and junior forward Chris Gilkes each recorded double-digit points with 10 apiece. The team's leading scorer and senior forward Chad Burridge had only eight points and four rebounds.
"We just weren't ready to play in the beginning of the game, quite frankly," Leone said. "We eventually got a couple easy baskets, we got a couple stops. And once you start scoring, you get a little feel-good going and I think that got us going a little bit."
Freshman forward Gordon Lyons led Geneseo with 16 points. Sophomore forwards Matt Curry and Jordan Jones also reached double digits, with 11 and 10 points, respectively.
The Lakers now lead the SUNYAC by four games over SUNY Cortland, who sits in second place with a 12-4 conference record. The team will play two more games before the end of the regular season with a game on Friday, Feb. 17 at 8 p.m. against Buffalo State and Senior Day versus SUNY Fredonia on Saturday, Feb. 18 at 4 p.m. Both games are at Max Ziel Gymnasium.
Oswego State will then open up the SUNYAC Championships at home against SUNY New Paltz on Tuesday, Feb. 21 at 7 p.m., also at Max Ziel Gymnasium.
"I think we just need to stay focused," Ward said. "We're already in first so it's easy to get into a lull. We just have to come back tomorrow and get a good practice in and get ready for the weekend."
"We're getting everybody's best shot every night," Leone said. "It's been a long season. These guys have answered the bell and I'm proud of them."