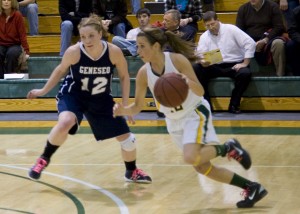 Despite a career night from junior Kassie Kleine, the Oswego State women's basketball team dropped its fourth straight decision in a 67-52 loss against SUNY Geneseo.
The Blue Knights used superior rebounding to turn a huge early deficit into a commanding victory. They out-rebounded the Lakers 50-24, and turned around the Lakers' 26-11 lead early in the 1st half. Aside from the Lakers' hot start, they had a really frustrating night on both ends of the floor.
Besides Kleine, only team captain Kayla Ryan had double-digit points for Oswego State. Ryan, who was battling a cold the entire game, scored eight of her 15 points during the first 10 minutes of the game. Ryan looked pretty worn down during the game, but still logged big minutes for the struggling Lakers.
"Ryan [is] struggling with a bad cold that really kept her from getting her lungs filled with air." coach Tracy Bruno said. "She was short of breath a lot, thus the reason you saw us run her in and out a lot more."
After the Lakers dominated early in the first half, Geneseo came back and took control of the game. The Lakers went on an extensive cold streak that had everything from bad shot selection to complete defensive breakdowns.
"We played so soundly defensively and really moved the ball effectively on the offensive end of the floor in the first half," Bruno said. "I felt like we struggled offensively out of the gate in the second half and it started to set the tone for us defensively."
Geneseo used a few big plays in the second half to swing the momentum its way, and once the Blue Knights got the lead they never looked back. Kleine made a few 3-pointers down the stretch en route to a career high 17 points, but the Lakers couldn't keep up any consistency offensively.
"I felt I gave 110 percent, but there are always little things I could have done much differently. My shots were falling just not enough time to catch back up." Kleine said.
Bri Dunton and Melissa Graham chipped in 12 points apiece for the Blue Knights, as part of a very balanced effort that saw four players reach double digits in scoring. The Lakers forced 20 turnovers, but couldn't turn them into much offensively.
"We have to sharpen our killer instinct. When we have a team down, we need to keep them down.  We need to be able to respond to their runs with good solid offense," Bruno said.
The Lakers shot 32 percent from the field and an abysmal 46 percent on free throws. Kari Kipper and Lauren Nunziato had six points each. Kleine hit a game-high four 3-pointers in 38 minutes of action. Ryan hit seven of her game-high 20 shots, and contributed five rebounds and four steals in 26 minutes.
The Lakers will look to break their three game losing streak this Saturday against Buffalo State. The game is at 2 p.m. at Max Ziel Gymnasium.