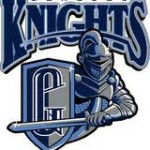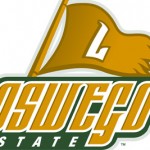 If there is one team in the SUNYAC this season where it's nearly impossible to predict what you're going to get from them, it is SUNY Geneseo, who have had to battle injuries through the first half of the season. The Ice Knights started the season ranked among the top 15 in the country, but have dropped off recently and currently sport a 10-9-0 overall record and a 4-6-0 record in conference. The Oswego State men's ice hockey team opened its home portion of conference play with the Ice Knights on Nov. 4 in front of 2,803 fans at the Campus Center Ice Arena. Senior forward and team captain Andrew Mather scored twice for the Lakers and junior forward Matt Singleton netted the team's fourth goal of the game at 12:41 of the third period to pull away from Geneseo en route to a 4-2 victory. Geneseo's Zachary Vit scored both goals for the Ice Knights and goaltender Adrian Rubeniuk finished with 46 saves in a losing effort. The Lakers outshot the Ice Knights, 50-22, including a 26-6 margin in the third period.
The last time this two teams met, the Lakers were ranked No. 2 in the country and the Ice Knights were ranked 12th. Not much has changed for the Lakers, as they continue to hold the No. 2 ranking in Division III at 14-2-2 overall. The Ice Knights, however, are unranked and are currently tied for fifth in the SUNYAC with SUNY Potsdam with eight points. Geneseo has just two games remaining against teams with winning records and host games against Potsdam and SUNY Cortland. There has not been a more inconsistent team in the SUNYAC this season when looking at the Ice Knights. On some nights they look they could compete for the SUNYAC title and on other nights they look as if they've only been skating as a team for a few days. Case and point: Geneseo manhandled Hobart College on Wednesday, Jan. 11, scoring fast and often in a 6-2 victory. That Friday, however, Geneseo dropped a 1-0 contest to Western New England University at home. Another example of this inconsistency is evident in games against Elmira College and Franklin Pierce. The Ice Knights went on the road and defeated nationally-ranked Elmira, 4-2, on Dec. 10, but needed a last-minute goal to seal a 5-4 victory against Franklin Pierce, a 3-9-4 Division II school from the Northeast-10 conference. To Geneseo's credit, they came back the next day and shutout Franklin Pierce, 8-0.
The Ice Knights have been difficult to beat on their home ice at the Ira S. Wilson Ice Arena, clinging to a 6-3-0 record. The game against the Lakers will be the first game played at home for Geneseo since the return of the student body from winter recess, which could mean a very hostile environment. Geneseo is led by Vit, last season's SUNYAC Rookie of the Year. In 19 games played this season Vit has compiled 10 goals and 13 assists for 23 points. Vit leads the team in power-play goals with three and is tied for the team lead in game-winning goals with two. Stefan Decosse is second on the team in scoring with 14 points on three goals and 11 assists. Four players on the roster have tallied 13 points.
Geneseo had resorted to a two-goalie system between Rubeniuk and Cory Gershon, but it appears that Rubeniuk has taken over as the starting goaltender. Rubeniuk has played in 11 games this season, sporting a 5-5-0 record with a 2.61 goals against average and a .911 save percentage. Gershon has appeared in seven games this season, but has a much higher goals against average (4.33) and a much lower save percentage (.851) than Rubeniuk. All signs appear to point to Rubeniuk getting the starting nod against the Lakers as he did back in November.
The Geneseo offense ranks 22nd in Division III at 3.58 goals per game. The offensive production may seem inflated, as the Ice Knights scored six goals against Framingham State, seven goals against Salve Regina and eight goals against Franklin Pierce. To their credit, the Ice Knights did put up six goals on Hobart, who ranks 22nd in team defense at 2.47 goals allowed per game. The defense is suspect, however, as Geneseo allowed 3.16 goals per game, tied for 40th with Buffalo State. The Ice Knights have surrendered six goals to The College at Brockport, seven goals to Potsdam and six goals to Adrian College.
Special teams have not been a good thing for Geneseo this season, as its power play and penalty kill units rank toward the bottom of Division III. The Ice Knights are converting on just 16.7 percent of their power plays and are killing off just 76.7 percent of opponents' power plays. Their in-conference power play ranks last in SUNYAC at 11.9 percent.
Oswego State will go into the game as the clear favorites, as it is the more talented team on paper. The Lakers offense ranks seventh in Division III at 4.33 goals per game and the defense ranks fourth at 1.89 goals allowed per game. The team's power play unit ranks 19th at 22.12 percent and the penalty kill ranks 15th at 86.0 percent. Junior forwards Luke Moodie and Paul Rodrigues share the team lead with four power-play goals. The Lakers' top three scorers all play on the same line. Moodie, Rodrigues and junior forward and assistant captain Jon Whitelaw have all amassed over 20 points this season. Whitelaw leads the team with 24 points on nine goals and 15 assists while Moodie and Rodrigues both have 22 points. Moodie leads the team in goals with 13 and Rodrigues leads the team in assists with 16. The line is responsible for 31.6 percent of the offensive production. Mather, who scored twice against the Ice Knights in November, has missed three out of the past four games for the Lakers for undisclosed reasons and it is unknown whether he will dress on Friday.
Another possible line to watch (if all three are in the lineup) is the "9 to 5 line,"  as coined by WNYO's Michael Keeley and Zach Koscuik, which consists of  junior Chris Brown, freshman Chris Carr and sophomore David Titanic. The line was responsible for two goals and three assists in a 6-1 victory against Hamilton College on Saturday.
Senior goaltender Andrew Hare is likely to get the start against the Ice Knights and junior goaltender Dan Jones will start against Brockport on Saturday. Hare is 11-2-2 this season in net with a 1.83 goals against average and a .927 save percentage.
The Lakers and Ice Knights will meet on Friday, Jan. 27, at the Ira S. Wilson Ice Arena in Geneseo, N.Y. Oswego State is 6-1-1 on the road this season and holds the all-time lead in the series, 51-20-2. The game can be heard on 88.9 FM WNYO or can be followed via live stats on the Geneseo athletic website.