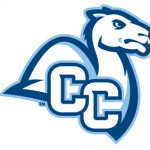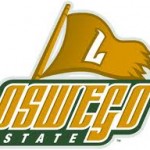 Despite not having played since Dec. 10, the Oswego State men's ice hockey team cruised to a 5-1 victory over Connecticut College in the first round of the Pathfinder Bank/Oswego Hockey Classic on Friday night at the Campus Center Ice Arena.
Junior forward Luke Moodie scored twice and the first line of Moodie, and junior forwards Jon Whitelaw and Paul Rodrigues combined for three goals and an assist to advance to the tournament championship.
Moodie started the scoring for the Lakers early in the first period while on the power play to give Oswego State a one-goal lead. At 3:54 of the opening period, senior forward and captain Andrew Mather found Moodie, who put the puck past Connecticut College goalie Mike Petchonka. Moodie's power-play goal came as the result of a holding penalty by Michael O'Donnell at 2:34 of the first period. Junior defenseman Jesse McConney also earned an assist on the play.
Petchonka would play just 4:37, as he was replaced by Andrew Margolin after sophomore forward Kyle Badham interfered with Petchonka in front of the net, leading to a penalty. Petchonka finished with six saves on seven shots.
Leading 1-0 midway through the second period, Moodie netted his second goal of the game and a team-leading seventh goal of the season at 9:20 of the frame. Moodie received a pass from junior defenseman Taylor Farris and gave the Lakers a two-goal lead.
Just 10 seconds before the second period intermission, Rodrigues added to the success of the team's first line, scoring the Lakers' third goal of the game and second on the power play. Four seconds after the Camels (2-7-0 overall, 2-4-0 NESCAC) were called for too many men on the ice, Whitelaw won the ensuing faceoff to McConney, who quickly passed it off to Rodrigues for the goal and a three-goal lead going into the third period.
The Lakers (10-1-2 overall, 6-0-2 SUNYAC) built their lead to four at 4:55 of the third period on Tyler Leimbrock's sixth goal of the season, before Connecticut College responded with a power-play goal by J.J. McGregor to cut the Laker lead back to three with just over 10 minutes to play in the third period.
Oswego State pushed the lead back up to four with its third power-play goal of the game, this one from senior forward Ian Boots at 15:42 of the third period. Both Leimbrock's and Boots' goals were unassisted.
Prior to the game, 11th-ranked Neumann University defeated Hamline University, 5-3, at the Campus Center Ice Arena to advance to the championship game. The Lakers and Knights will face off at 4 p.m. at the Campus Center Ice Arena to end 2011. The game will be preceded by the consolation game between Connecticut College and Hamline at 1 p.m.