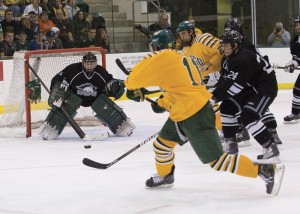 Let me start by saying I am not a fan of shootouts. The NHL system of deciding a game based on a breakaway competition is flawed, if you ask me. What I am even less fond of, however – is ties. Oswego State and Morrisville State College's 3-3 draw on Nov. 12 left everyone with a strange feeling. I do not want to say it felt like we had all wasted two and a half hours, but no winner and no loser? That is not what sports are all about. Regardless, it was not a loss – and the game kept the Lakers technically unbeaten in conference play. The schedule is about to get a lot tougher in the coming weeks though, and we will get a chance to see what this team is really made of.
Mustang Magic. The Morrisville Mustangs have found some kryptonite against the Lakers at the Campus Center Ice Arena. Saturday's tie was the first for the Lakers in nearly three years. The last such event? Friday, Nov. 14, 2008 at home against Morrisville. That is just the beginning. Morrisville has scored the first goal in four consecutive trips to Oswego, and the first two goals in the last three trips. Two out of the last three times, they have led 3-0, and in all three have enjoyed three-goal leads at a certain point of the game. What makes this so unbelievable is that in conference, the last road team before the Mustangs to open up a two-goal lead at the Campus Center Ice Arena was SUNY Potsdam on Feb. 21, 2009. You have to go back to Feb. 10, 2007 to find the last time a conference opponent other than Morrisville led the Lakers by three goals in their building, when SUNY Plattsburgh came away with a 4-1 victory. What do all these numbers mean? Throughout the course of the last three seasons, Morrisville has been the only conference opponent, and only one of two total teams to lead the Lakers by multiple goals in an Oswego State home contest, and they have done it three different times. The only other time the Lakers have trailed by more than one goal at home since the 2008-09 season was when Hamilton College defeated Oswego State, 5-1, in the Pathfinder Bank Classic Dec. 30th, 2010. Oswego State fans are praying they do not see Morrisville in the postseason.
Rookie Blue-liners. Oswego State got its first look at freshman defensemen Bobby Gertsakis and Nick Rivait during the Geneseo/Brockport weekend at home Nov. 4 and 5. Both players put on impressive performances, each netting their first collegiate points with assists. Although the Lakers' defensive corps are fairly crowded, it is a nice luxury for coach Ed Gosek to have two point-producing defensemen waiting in the wings if the Lakers ever need a shot of offense, or if injuries come into play.
Misconduct Misfortune. Whether it can be attributed to over-aggressive play or a little too much running of their mouths, the Lakers have already been charged with two 10-minute misconducts and one game misconduct so far this season. Having to play 10 minutes short a man on the bench is obviously devastating, especially for a Laker team that relies heavily on team chemistry. According to NCAA rules, three game misconducts for one player leads to a one-game suspension, something that certain Lakers have been dangerously close to over the last few seasons.
Missing Moodie. Junior forward Luke Moodie was a healthy scratch for Saturday's tie against Morrisville for "violating team rules" according to assistant coach Mark Digby. Moodie's absence on the ice was felt, as the team struggled on the powerplay (1 for 8), and Moodie's normal linemates Jon Whitelaw and Paul Rodrigues looked a little out of sync. To his credit, junior forward Chris Muise, who filled in on Moodie's line, did score the game-tying goal.
On the Road Again. The Lakers will leave Oswego to play four consecutive road games starting Friday, Nov. 18 at Fredonia. They travel to Buffalo State on Nov. 19 and then after Thanksgiving, trek north to SUNY Plattsburgh and SUNY Potsdam on Dec. 2 and 3, respectively. Fredonia is coming off a 9-1 romp over Potsdam while Buffalo State just took down Plattsburgh. And as we all know, the Cardinals always provide a tough matchup. The upcoming road trip may be the toughest conference stretch all season long.
The SUNYAC has been a strange conference to try and figure out so far in 2011-12, with the top five teams all within two points of one another. Regardless, the Lakers continue to sit at the top of it, as the rest of the field jostle for position. The tie against Morrisville has left a weird taste in everyone's mouth, but it is pretty clear that this team is still the one to beat in the SUNYAC, evident by its resiliency and bright flashes of brilliance. And let us all be real – who would not have liked to see Ian Boots in a shootout? I thought so.