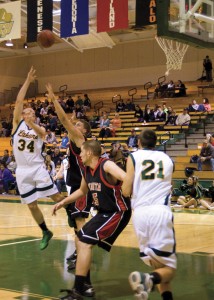 After a season in which the Oswego State men's basketball team won 24 games, 17 of which came in conference play, and advanced to the second round of the NCAA tournament, the Lakers enter the 2011-12 campaign looking to continue last year's success.
"I hope it will be the same," new head coach Jason Leone said. "One of the things I've tried to do is keep as much continuity within the program as they had last year."
Leone's job is made easier by the Lakers' return of nearly every key player from last year's team, including senior forward and team captain Chad Burridge, who led the team last season with 18.5 points per game.
Alongside Burridge as captains will be senior guards Sean Michele and Ryan Sheridan. Michele led the team with 4.1 assists and 1.6 steals per game last season, and Sheridan averaged 7.4 points per game for the Lakers junior forward. Also returning is junior forward, Hayden Ward, last year's leading rebounder, with 8.1 per game.
"One of the things that was very important with the team's success last year was its balance," Leone said. "On any good team you have balance, and you have four or five guys that on any given night can perform at high levels."
Oswego State enters the season ranked No. 18 in the nation, which is one spot ahead of fellow SUNYAC member Buffalo State, whom the Lakers defeated twice last season, with the first game going into overtime.
"They [Buffalo State] had a great year last year," Leone said. "They made the NCAA round of 16 and they have most of their roster back."
Leone also said the College at Brockport would also be a tough opponent within the conference this season. Oswego State defeated the Golden Eagles twice in the regular season last year, but it was Brockport that eliminated the Lakers from the SUNYAC Championships.
The SUNYAC, as a whole, will be tough this year, and there is no guarantee that the Lakers will run the table in the conference.
"Sports are funny. It's not a given that we're going to be one of those teams," he said. "I think there's no reason why our team couldn't win the league, but there's also no reason why our team couldn't finish fourth or fifth. The league is that good and that balanced."
According to Leone, the key to this year's success will be consistency. He said he has been preaching to his players to maintain their level of effort and intensity and to focus on the little things every day.
"Winning is a byproduct of your habits every day," Leone said. "As players, they've been there so they know what it takes mentally and physically to play at a high level."
Leone said that at this point in the season, his goals for the team do not include returning to the NCAA tournament.
"I don't think our season should be defined on whether we make the NCAA tournament or not, however unrealistic that is," Leone said. "Our season should be defined on how consistent our habits are and the things that winning teams do, doing those things consistently. If we do those things first, I think the winning and the accolades with take care of themselves."
Despite entering the game as favorites, the Lakers opened up the season on Tuesday with a 66-62 road loss at the hands of St. Lawrence.
Oswego State trailed by 11 at the half but was able to come back and tie the game at 52 with 6:07 left to play. A minute later, Ward gave the Lakers their only lead of the second half with a three-point play to put them up 55-54. The Saints went on a 6-0 run to put them ahead for good and hand the Lakers their first loss of the season.
Burridge led Oswego State with 19 points and Ward also reached double-digits with 13.
Some key dates for the Lakers include Friday and Saturday, when the team will host the Max Ziel Men's Basketball Classic against Ithaca College and Wells College.
On Friday, Dec. 2, Oswego State opens up conference play, as it will host SUNY Potsdam at 8 p.m. Four days later, the Lakers will seek revenge from last year's SUNYAC Championships, as they will travel to Brockport for a matchup with the Golden Eagles. Oswego State hosts Brockport on Jan. 31st at 8 p.m.
Oswego State will play its first game against Buffalo State in Buffalo on Saturday, Dec. 10 and hosts the Bengals in the second-to-last game of the season on Friday, Feb. 17. at 8 p.m.
The Lakers also play a Division I opponent this season. The team will travel to Texas this year to face-off against the University of Texas-Pan American on Tuesday, Jan. 3.
The SUNYAC Championships will run from Feb. 21-25, and if the Lakers are successful enough, they could qualify for the NCAA tournament, which begins on Friday, March 2.
"There were some great things that happened here, not just last year, but in the past years," Leone said. "What I'll try to do is keep the ship moving in the right direction."