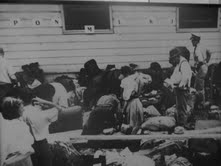 Most Americans go through their entire lives never learning how President Franklin Delano Roosevelt granted 1,000 World War II refugees asylum at Fort Ontario.
"Usually, their first reaction is they're shocked they never heard of this," said Kimberly Steele, three-year Safe Haven board member. "They heard of Japanese internment camps, but not this."
In August 1944, 982 refugees boarded the ship Henry Gibbins in Italy. Of these, 874 were Jewish and most had survived concentration camps. This is the first and only time in American history that the government offered sanctuary to displaced persons.
"There has always been persecution," Steele said. "This is the first time that we have not just sent in military action, but lifted humans out of dangerous situations, out of death."
Fort Ontario had been chosen because it had recently been decommissioned from a military training base and came complete with a chain-link fence and three rows of barbed wire.
Yet this didn't deter refugees from leaving through the holes in the fence.
"As they said, you could go under the fence, over the fence, through the fence," said Judy Coe Rapaport, president of the Safe Haven Museum. "It didn't really matter, but they were not allowed to leave."
"My father had a lot of relatives in the United States; he wanted to see them," said former Jewish-Italian refugee Doris Schechter. "He snuck out and had an instant love affair with New York City…and he died soon after."
The refugees were able to leave for six hours a day and during the mornings some of Oswego's residents would come to the fence. They would toss over dolls and bicycles, said journalist Ruth Gruber during a Skype interview from New York City with Oswego State students and residents.
Children were allowed to leave for school after the 30-day quarantine period, although they were initially banned from attending by the government. Ralph Faust, the high school principal, fought to allow the students to attend school.
"He was a saint. He was a hero," said Safe Haven volunteer and former board member Banna Rubinow. "He fought [the government] tooth and nail for those children to be allowed into the school…The community didn't fight him and the teachers did what they had to do, the town celebrates him."
Part of this was the willingness of the Oswego residents to welcome the refugees into the community despite the general small-town mentality.
"There were 982 refugees, most of them Jewish," Rubinow said. "This town had a choice…to welcome them into the community or not and they did. I think that is residual."
Rubinow said there is curiosity among the primary education students about the Jewish culture and a strong effort to equalize Christmas and Chanukah decorations in the schools. Often, people will ask her about her Jewish traditions for their own knowledge.
"I am heartened by how many times I get a call or people stop by and say 'I was invited to a bar mitzvah: what do I wear or what do I bring?'" Rubinow said. "I do think it may be the legacy of the emergency refuge center…I don't just feel tolerated, I feel welcomed."
The community may also have been accepting because it was during wartime. These refugees provided a face to the meaning of the war.
"This let people see why their husbands, their sons were fighting," Steele said. "Just shy of 1,000 people saying, 'I'm here because of your sons and your husbands.' And that gives validation to the war."
There are also residual effects of Safe Haven and the welcoming of the World War II refugees on the Oswego community that have become apparent even through to today
"I think, I believe that Oswego is a little bit more accepting of pushy black women and pushy Jewish women because they were sensitized to difference 60 years ago when other communities were not," Rubinow said.
One of the remaining buildings from the 1940s has been converted into a museum to preserve the history and help people remember the story of the Safe Haven refugees, but with the fact being that these atrocities can and do still happen in places such as Darfur and the Middle East.
"The biggest impact is the whole thing that history repeats itself, that's how we try and continue," Steele said. "We continue the story because we haven't learned and that's frustrating."
It also helps people remember that America has overcome struggles and has made an impact on lives in a positive way.
"This is a story of people overcoming stereotypes, bigotry and prejudice." Rubinow said. "They thought, if I give to them, then we have less. They overcame the selfishness. This town rallied to a great cause in a rather heroic way."