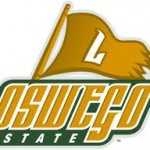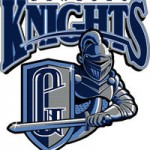 The Oswego State men's ice hockey team may have a historical and bitter rivalry with SUNY Plattsburgh, but over the years SUNY Geneseo has given the Lakers all they can handle, solidifying them as one of the top three teams in the SUNYAC.
It was the Ice Knights that snapped the Lakers 22-game winning streak back on Feb. 20, 2010, at the Ira S. Wilson Ice Arena in Geneseo, N.Y., that really got the attention of the SUNYAC despite being on a one-year postseason ban for recruitment violations. The aggressive nature of these two teams boiled over with just five seconds remaining in a 3-1 victory for the Ice Knights, when Justin Fox was given an unsportsmanlike conduct penalty and Chris Laganiere took a 10-minute misconduct penalty for the Lakers. Geneseo's Jeff MacPhee received a five-minute headbutting penalty, as well as a 10-minute game misconduct.
While Fox, Laganiere and MacPhee are no longer with their respective programs, the physicality of these two teams have not decreased despite the Lakers sweeping the season series from the Ice Knights last season in decisive fashion. Oswego State shut out Geneseo, 4-0, at Geneseo on Dec. 4 before routing the Ice Knights, 7-1, in Oswego on Feb. 19 to close out the regular season.
Both teams' seasons ended prematurely in the SUNYAC Semifinal last season, as the Lakers were upset by SUNY Fredonia, 2-1, in overtime and the Ice Knights were upset by Plattsburgh, 3-2, in overtime after Geneseo was able to tie the game with under a minute to play in regulation. Oswego State won the regular season conference title with a 15-1-0 record, only losing to Morrisville State at home. Geneseo claimed the second-seed after a 10-5-1 conference finish.
The Ice Knights (#12 USCHO.com Men's Poll; 2-1-0 overall, 2-0-0 SUNYAC) return the majority of their offense from a year ago, as Geneseo lost just six players to graduation. Geneseo returns its top eight offensive leaders from last season, including last year's leading scorer Zachary Vit, who finished the season with 35 points on 13 goals and 22 assists. Vit finished fourth in scoring in conference play, averaging 1.38 points per game with eight goals and 17 assists in 16 games, earning SUNYAC Rookie of the Year honors. Vit, a sophomore forward, led freshmen in scoring last season, registering 10 more points than Morrisville's Taylor Vince, who finished second. In three games this season, Vit has four points on two goals and two assists, including the game-tying goal against Buffalo State on Oct. 28 with just 0.9 seconds remaining in regulation.
Geneseo has jumped out to a 2-0-0 start in conference despite the loss of its top defenseman, Danny Scagnelli, who has yet to play this season for the Ice Knights due to an upper body injury that has kept him out of the lineup. Scagnelli led SUNYAC in defenseman scoring last season with 17 points in 16 games along with Fredonia's Steve Rizer. Defensemen Jake Yard and Jimmy Powers have stepped up for the Ice Knights, contributing to the offense in Scagnelli's absence.
Geneseo has already had its fair share of close games, as all three of its contests have ended in one-goal games, two of which finished in overtime. The Ice Knights battled back from a 3-1 third period deficit to stun Buffalo State in what has become the SUNYAC game of the year so far this season. The following night, David Arduin scored his team-leading third goal of the season at 3:46 of the third period, as the Ice Knights defeated Fredonia, 2-1. Arduin leads the Ice Knights in scoring with five points on three goals and two assists.
The Lakers (#2 USCHO.com Men's Poll; 3-1-0 overall, 1-0-0 SUNYAC) have played just one non-ranked opponent, which also happened to be their only conference game of the season thus far in SUNY Cortland, which resulted in a 6-0 rout at Alumni Arena in Cortland, N.Y. Oswego State controlled Elmira College in its only home game to date this season. The Lakers find themselves on a rare one-game losing streak this early in the season following a 3-2 loss at Utica College on Oct. 29.
Oswego State is currently led by junior forward Jon Whitelaw, who is tied for the division lead in points with eighth and leads the nation in assists with seven. Boots, who led the team in scoring a year ago, currently sits third on the team in scoring with five points on three goals and two assists. Boots' three goals is tied for the team lead with junior forwards Luke Moodie and Paul Rodrigues.
While Geneseo has recently become an elite SUNYAC team, the Lakers have been a staple in the conference for years, constantly appearing near the top of the rankings, especially in the past few seasons. The matchup will serve as the third consecutive game where both teams are ranked in the top 15. The Lakers led the conference in scoring offense (4.94 goals per game), scoring defense (1.88 goals allowed per game), power play (27.5 percent) penalty kill (84.9 percent), combined special teams (55.4 percent) and special teams net (+13). Oswego State also had players in the top five of five of the six categories. Senior forward Ian Boots led SUNYAC in scoring last season with 28 points in 16 games. Boots also finished first in assists in conference with 19. Moodie finished fifth in goals scored last season in conference with 10. Stephen Mallaro finished fifth in defenseman scoring with 12 points.
Special teams was a strong aspect to both teams last season. The Lakers finished with the seventh-most effective power play in Division III with a 25.83 percent effective power play. The Lakers finished 17th in penalty kill with an 84.3 percent success rate. The Ice Knights were a mirror opposite with the 16th-most effective power play at 23.48 percent and the eighth-best penalty kill at 85.9 percent.
The goalie situation for both teams feature two capable goalies that will more than likely split time throughout the season. The Ice Knights have just two goalies on the roster in senior Cory Gershon and junior Adrian Rubeniuk. Gershon has played in two games this season, posting a .852 save percentage against Adrian College and Buffalo State. Rubeniuk played against Fredonia, allowing one goal and recording a .967 save percentage.
Oswego State finds itself with goalie issues for yet another season after it was confirmed that starting goaltender Paul Beckwith will miss the rest of the season after injuring his knee in the season opener at Elmira College. Beckwith played in just one period before being replaced by junior goaltender Andrew Hare to begin the second period. Hare has started each of the last three games, allowing 1.65 goals per game and recording a .942 save percentage. Backup goalie Dan Jones has yet to see any playing time this season, but with just two healthy goalies on the roster, Jones may see some time between the pipes.
Although the season is young, the game between the Lakers and the Ice Knights could go a long way in determining the top three teams in the conference. These two teams will meet on Friday, Nov. 4, at 7 p.m. in the Campus Center Ice Arena.