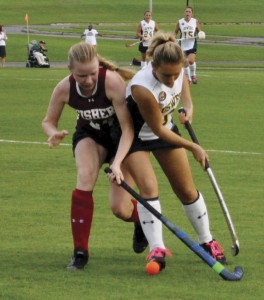 The Oswego State women's field hockey season started out with the Lakers heading on the road to William South. Throughout the season's first game, the Lakers were plagued by poor ball possession and turnovers, ultimately leading to a disappointing 6-0 defeat.
William South capitalized on the Lakers' faults late in the first half, scoring three goals in a six-minute span. However, on the heels of that loss the Lakers knew they would return home to host local rival Houghton College.
Sparked by playing in front of family and friends, the team delivered, securing the first victory of the season, 2-0. Head coach Brandi Lusk was pleased with her team's efforts.
"We have some things we need to work on, but it's all about getting the win," Lusk said.
The Lakers would go winless in their next two matches, losing two heartbreakers. The Lakers fell to Utica 1-0 on Sept. 7, and would then follow up with a great effort, only to lose 3-2 to Nazareth college in overtime.
After squeezing out a 1-0 victory at home against the College at Brockport, the Lakers' season would take a turn for the worse. The team dropped five consecutive games, with two of the games going to overtime, and three of the losses being by the count of 2-1.
With just seven games remaining in the season the Lakers turned their misfortunes around. The team re-gained confidence after an impressive 3-2 victory over SUNY Oneonta. Oswego State would then knock off Elmira College and Wells College in back-to-back games, extending the win streak to three games. After falling 2-1 to Keystone College, the Lakers finished up strong by winning two of their last three games.
The most exciting game may have been the final match of the year, on the road at Morrisville State. The Lakers pulled out an exhilarating, 5-4 victory in overtime. Kelly Collins ended her impressive career by scoring two goals, assisting her sister Courtney, as well.
The Lakers finished with a 7-10 record, 2-4 in conference play, which kept them out of the SUNYAC playoffs. The team was highlighted by the outstanding play of Kelly Collins, who scored a team-high 11 goals and was tied for the team lead with three assists.
The senior from Fairport, N.Y. ends her career with some impressive milestones. Collins was a force on the field since she was a freshman. She was first team All-SUNYAC in 2008 and was named the 2008 SUNYAC Rookie of the Year. Janusz had four shutouts and was a driving force in all of the Laker victories.
The closing of a season brings the dawn of a new one, and the Lakers have a lot to be excited about with returning players Courtney Collins, Ashley Fiorille and Jess Felice ready to lead the team to greater success in 2012.