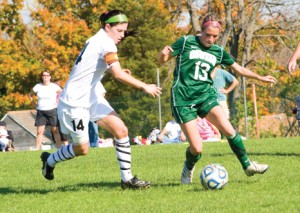 The Oswego State women's soccer team's chances of clinching a spot in the SUNYAC playoffs took a crucial hit over the weekend after dropping a 1-0 decision to SUNY Fredonia on Friday afternoon at Laker Field.
The Lakers rebounded in a must-win game against Buffalo State on Saturday, defeating the Bengals 1-0 behind junior midfielder Kassie Kleine's game-winning goal with 10:09 remaining in regulation on Senior Day.
Oswego State had an opportunity to leap frog Fredonia in the conference standings with a win on Friday, but an own goal in the 33rd minute proved costly, as it was the only goal recorded in the game. Fredonia's Catie Hale was closest to the ball when a Laker defender deflected it into the back of her own net.
"It was a mixup in front of the goal," assistant coach Lori Kleine said. "One of (Fredonia's) players didn't really get a shot off and it deflected off of one of our defensive backs."
Friday's game was the first time the Lakers had both given up an own goal and been shutout at home this season. The Lakers were previously shutout in a 3-0 loss at SUNY New Paltz on Sept. 24. The last time the Lakers were shutout at home was on Sept. 18, 2010, when they dropped a 3-0 decision to SUNY Cortland.
Freshman goalkeeper Steph Hotaling started in net for junior Emily Varonier, who did not play due to an illness. Hotaling recorded four saves in a losing effort for Oswego State.
The Blue Devils outshot the Lakers 10-4 in the first half, including a shot by Melissa Cummiskey that deflected off the crossbar and a shot by Lindsay Putman that had to be saved by senior midfielder Kelly Adams after Putman had maneuvered by Hotaling.
We played well in spurts, but not for the entire 90 minutes," junior forward Shelly Bateman said. "We just need to regroup and come back tomorrow with intensity because we really didn't today."
The Lakers held a 6-4 advantage in shots and a 5-2 advantage in corner kicks during the second half, but were unable to produce any offense as a result. Oswego State had two corner kick opportunities in the first five minutes of the second half, but only generated one shot, which went wide of Fredonia goalkeeper Meaghan Meszaros, who finished with three saves.
"They came out and played well in the beginning then we had a little bit of a letdown when we scored on ourselves," Lori Kleine said. "We came out tough in the second half but didn't prevail."
Oswego State recorded just two shots in the final 13 minutes of the second half. Both Bateman's and freshman midfielder/defender Bri Dolan's shots went wide.
The loss kept the Lakers in eighth place in the SUNYAC at 1-4-0, while the win propelled the Blue Devils into fifth place at 3-2-0.
Desperately needing a win on Saturday to stay alive in the hunt for a playoff spot, Kassie Kleine delivered with the game's only goal late in the second half to give the Lakers a victory over Buffalo State on Senior Day.
With 10:09 remaining in a scoreless game, Kassie Kleine received a pass into the box that bounced off her chest and to sophomore forward Nikki Liadka. Liadka delivered a pass back to Kassie Kleine, who settled the ball down before firing a shot that beat Buffalo State goalkeeper Virginia Porten on the far side post.
Kassie Kleine's fifth goal of the season was all the Lakers needed to win their first Senior Day game since 2004, when Oswego State defeated Cortland for the first time in program history, 2-1.
"I haven't scored in a couple games so it was nice to make the game-winning goal, especially today for our seniors," Kassie Kleine said. "Yesterday we were really slow and intensity was low and the excitement of the senior game gave everyone the incentive to want to win."
Despite being outshot 12-6 (8-2 in the second half) and giving up seven corner kicks, the Laker defense held strong behind Hotaling, who recorded five saves to earn her first colligate win in net.
Prior to the game, Oswego State honored its eight seniors. Midfielders Laura Ambron, Alexa Krebs, Kelly Adams and Britt Williams and defenders Stephanie San Antonio, Lindsey Forte, Liz Conrad and Alexa Bieber all started the game for the Lakers.
"They're great," Kassie Kleine said. "We're all really close and we're really going to miss them next year."
With the win, the Lakers improve to 8-5-0 overall and 2-4-0 in SUNYAC. Oswego State currently sits in eighth place in the conference, one point behind sixth-place SUNY Geneseo for the final playoff spot. The Blue Knights (2-2-1 SUNYAC) have played one less game than the Lakers and hold a two-game lead in the loss category.
Oswego State will play its final three conference games on the road, starting at Geneseo on Friday, Oct. 14.