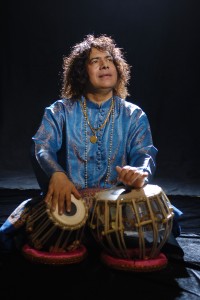 Oswego State has been selected as one of five communities to participate and host the "Caravanserai" program from Oct. 10-15. The program, launched by Arts Midwest with support from the Doris Duke Foundation for Islamic Art, is designed to help spread understanding of the Muslim culture.
Caravanserai will include two ensembles, a documentary and two types of folk songs. Of those, Ustad Tari Khan, a Pakistani tabla master, and Ensemble will be performing. A tabla is a set of hand drums that contrast in sizes. Playing the tabla involves the use of both the fingers and palms in order to create different sounds. Khan is considered one of the most accomplished tabla performers of all time, being awarded the title of "Tabla Prince of India and Pakistan," and several other awards.
When Khan plays he plays with precision and creates a pure sound. Because of his tabla playing skills, Khan has played all over the world. He's been to almost all of the major cities and has produced music for several documentaries and films such as "Mississippi Masala," which starred Denzel Washington.
Khan's ensemble includes musicians that specialize in dholi drumming. The dhol is a barrel drum that musicians wear slung over the neck and play using two wooden sticks. The dhol dates back to the 15th century and is mostly played as an accompanying instrument.
In addition to Khan, Qawwal Najmuddin Saifuddin and Brothers will also be performing a selection of Qawwalis, a form of Sufi devotional music. They will be sung in a variety of languages such as Arabic, Hindi, Sunskirt and English, among others. Arif Lohar and Sanam Marvi will also sing folk songs in several languages.
Besides the musical aspect of Caravanserai, there will also be a showing of "Made in Pakistan." This documentary tells the tale of four young Pakistanis during Pervez Musharraf's state of emergency in 2007. Caravanserai begins Monday and concludes Saturday, Oct. 15. The full schedule can be found at oswego.edu/arts.