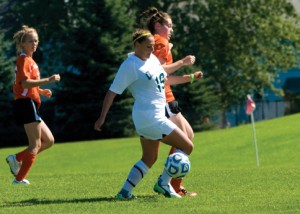 Sophomore forward Nikki Liadka is off to a blistering start this soccer season. The 5-foot 4-inch forward from Liverpool, N.Y. was named 3rd team All-SUNYAC as a freshman, and this year she has blossomed into one of the most dangerous players in the conference.
Liadka worked extremely hard in the off-season, going to her old high school to get some work in with her friends, and put herself in a position to thrive this year.
Liadka scored 13 goals in 18 games a season ago, netting 29 points along the way. However, Liadka knows individual statistics are not everything.
"There is only one thing I care about: winning," Liadka said. "I try my hardest every game, if I score then I score. If I don't and we win I still feel just as happy. If I don't score, and we lose then I look back at what I could have done better."
This season, Liadka has assumed a leadership role and is not afraid of the spotlight or telling her teammates what they can do better on the field.
"For every team that I have played on I've been seen as a leader, it is nice knowing that my team cares about my opinion and takes what I say seriously," Liadka said.
Liadka scored nine goals in the team's first nine games and hopes that her fast start can translate into even more wins for the Lakers. She had the best game of her career in a contest against Alfred University, where she completed her second career hat trick in a 4-0- win.
Against Utica College, Liadka single-handily rallied the Lakers to a come-from-behind 2-1 victory. Liadka scored the game-winning goal with just under three minutes remaining in the game. It's the clutch plays that have herself and her teammates feeling confident so far this year.
"We started out the season very strong. We brought in some very skilled players that fit well with our team," Liadka said. "I believe we can beat any team if we show up ready to play and I expect the team to come out 100 percent for every game. No one wants to lose and we have the potential to win."
Liadka has been sensational in the clutch this season, scoring three game-winning goals.
Head coach Brian McGrane lauded Liadka, complementing her work ethic and ability to make the other players on the team compete at a high level.
"We have surrounded her with a number of good players," McGrane said. "We brought in a very good recruiting class mixed with a number of returning players which has helped her to not take on as much responsibility."
McGrane has put a lot on the shoulders of the sophomore, but Liadka has responded by playing above and beyond expectations this season.
The team is coming off a rough season, and Liadka does not want last season to be the impression people have of the team.
"Last season is not how the Oswego State women's soccer team should be looked at," Liadka said. "This year, we have a strong, focused team so we deserve to have started the season off so well."