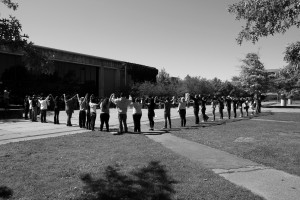 This September marks the 25th anniversary of ALANA's annual student leadership conference.
ALANA (African, Latino, Asian and Native American) hosts a student-based conference for leadership and cultural education every September. It started last Sunday and will conclude this Sunday.
The conference began in 1986 with small workshops arranged to celebrate diversity, held in the afternoon. Today, the conference has evolved to include guest speakers, a peace walk, a cultural movements festival, a fashion show and a banquet. It has grown so large that nearby SUNY students come to participate. The staff sends information to SUNY Cortland, SUNY Albany, SUNY Binghamton and Syracuse University, among others. Many programs are filled to capacity; last year most were standing room only.
Maggie Rivera, the student involvement coordinator at The Point, said in honor of the 25th anniversary, ALANA has chosen not to set a theme as in previous years. Instead they will focus on how far the conference has come. They have chosen a quote by Confucius to celebrate their history: "A journey of a thousand miles begins with a single step." Also a few words of summation for this year's conference are "success," "unity," "empowerment" and "diversity."
"[The conference] puts out there all those issues about diversity, what's going on through different cultures, different countries and it encourages faculty, staff and students to become part of it and learn about it," Rivera said.
Sunshine Cooper, president of the Black Student Union, is excited about how far ALANA has come. On Sunday, BSU kicked off the conference week with the second annual peace walk and afterward collaborated with the Gospel Choir to put on a barbecue. Senior Christopher McPherson, president of the Gospel Choir, expressed his excitement for ALANA week.
"In 25 years, I'm glad I've spent four years as a part of it," McPherson said.
When he was still a student pursuing his Master's degree at Oswego State, Dr. Tyrone A. Holmes, founded the conference in 1986. On Thursday, Sept. 22, Holmes returned to be the keynote speaker at the conference he created 25 years ago. At the event, which was held in the Hewitt Union Ballroom, he discussed available information, resources and how they can help with cultural education and leadership.
Other guests included J. Ivy, a Grammy Award-winning artist who hosted and performed at the fashion show, and Arthur Flowers, an author and professor at Syracuse University who presented a workshop. There were more than 20 events throughout the week.
"I just love the fact that we're all working together as one and giving back to the community," Cooper said.